Preserving the power of public education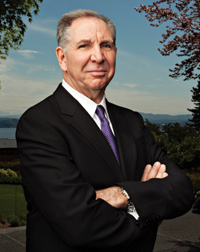 WHERE'S THE TECHNOLOGY and innovation capital of the world? A hundred years ago, the answer to that question might very well have been Detroit, where Henry Ford's new automobile company was revolutionizing the manufacturing process as well as "welfare capitalism" designed to improve working conditions for his labor force. My, how times have changed. Today, Detroit is known for its grittiness and determination, an image honed by the city's well-publicized struggles to recover and rise from years of economic blight and decay.
Detroit's shifting fortunes raise questions whether other regions will find themselves in similar positions in the future. Brad Smith, general counsel and executive vice president at Microsoft, has encouraged audiences to think about Detroit's experience relative to the Pacific Northwest. A hundred years from now, will Washingtonians look back with nostalgia and regret to the time when our state was home to some of the most innovative organizations in the world only to see the pillars of our knowledge economy crumble? Preventing that bleak prospect from becoming stark reality requires one thing: people who can drive and sustain innovation. It's what economists refer to as "human capital," and the only way to develop that capital is through education, particularly public higher education.
As part of the Tomorrow's University Today initiative that I launched last fall, we are striving to ensure that the University of Washington is leading change in public higher education that will create transformational experiences for our students and a better future for our region. How are we doing this? We start by recognizing a few key facts.
First, we recognize that today's students are very different from the students we studied with when most of us were in college. They have different expectations as well as different needs and capabilities. Technology has not only shaped the way they acquire information, but also how they process it, how they learn, and how they develop intellectually. At the same time, technology has evolved in ways that permit us to build on those developments and create significantly enhanced intellectual experiences for our students. Technology also gives us the capacity to expand dramatically access to our University so we can reach many more people and change their lives for the better.
With these developments in mind, we are combining the best of technology with the President tomorrow's university to day best of our faculty to enhance our students' educational experiences. Our faculty are using a variety of online tools and doing things like "flipping their classrooms," whereby they put the basic content, including their lectures online and then use their class time for dynamic, face-to-face interaction with students. Educational outcomes are skyrocketing, along with student engagement and progress.
We are also using technology to help us achieve our mission of expanding access to the University. Last summer we joined a number of other top-tier universities in the online start-up Coursera, our first foray into the world of free online education through massive open online courses. Being a part of Coursera allows us to reach out to a huge global audience with thousands of students in each class.
Another new possibility that we are pursuing, in close conjunction with our faculty, is the creation of a new online degree completion program for students who have some college under their belt, but for whatever reason, never finished their degree. Studies indicate that there are about 800,000 such students in the state of Washington and more than 50 million nationwide. A recent survey, for example, indicated that more than half of early childhood professionals had some credits in their field but had not completed their degrees even though the vast majority of them believed that it would enable them to increase the quality of their care to children. If we can help provide assistance to some of them to complete their degrees, it will help address the college graduate shortage in our state, to be sure, but more importantly, it will change lives for the better.
Ensuring that Washington does not become the next Detroit requires a recommitment to invest in our greatest resource—our people. Our UW community is fully committed to taking on this work and to leading change in public higher education. Indeed, we believe it is an endeavor that is simply too important to fail. We invite our friends and alumni to be part of it.


Michael K. Young, President