President Precedent
Catching up with ROBERT MERRY, '68, political journalist, former CEO of Congressional Quarterly and author of Where They Stand: The American Presidents in the Eyes of Voters and Historians.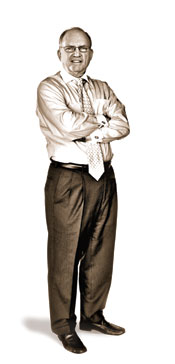 Photo by Dayna Smith
Robert Merry writes history as it
happens. A 1968 graduate of the UW's School of Communications, the esteemed political journalist wrote for
The Wall Street Journal
, was CEO of Congressional Quarterly Inc., and now is editor of
The National Interest
, a bimonthly international affairs magazine published by the Center for the National Interest.
"Some people say journalism is dead. I don't buy that. People are always going to want to know what's happening. News won't go away any more than oxygen will."
"I loved growing up in the newsroom." Merry's father worked at Tacoma's News Tribune, which sparked his son's writing ambitions. As a UW freshman, Merry began writing for The Daily, eventually rising to editor.
"I was scared to death when I first arrived, but I met so many fun people. The sports editor wore wooden shoes and there was an intellectual from India with a long, black beard which he'd curl around his fingers while hunched over his typewriter."
"It was like a pig going through a python with all the tension and activity." Part of the Baby Boom generation, Merry witnessed and wrote about the 1960s seismic social and political changes. "It was a heady time because of the student activism and foment on college campuses and around the country."
He caused controversy by projecting conservative views in The Daily's editorial pages while a student at the UW. A research project, however, brought him in contact with more like-minded, notable confidantes. "As a junior in college, I began corresponding with William F. Buckley Jr. who became a lifelong friend."
History first jumped off the page and captured Merry's interest when he was a young boy living on the East Coast. "We packed up the '41, rickety Ford and drove across the country from Gig Harbor to Charlottesville, Virginia. That's where I developed a deep passion for history. I saw Monticello, the Civil War battlefields and it was all so beguiling."
He eventually covered presidential candidates, the White House and interviewed Ronald Reagan in the Oval Office. "It was interesting to encounter and see them up close. I got to know Richard Nixon. I wrote a letter thanking him for dinner at his house (in the 1980s). He wrote back and we had a brief, interesting exchange about America's political culture."
Where They Stand: The American Presidents in the Eyes of Voters and Historians, published in 2012, is one of four books authored by Merry and assesses the success of U.S. presidents, including many he met personally. "Our system, in my view, is a work of genius."
"We are a country in crisis, but I'm a relative optimist. I believe that eventually a leader will emerge who'll figure out how to change the political landscape and create new coalitions that will break the deadlock that now has America frozen."
Seattle freelance writer Deanna Duff is a regular contributor to Columns. Her interview with Washington State Poet Laureate Kathleen Flenniken appeared in December.