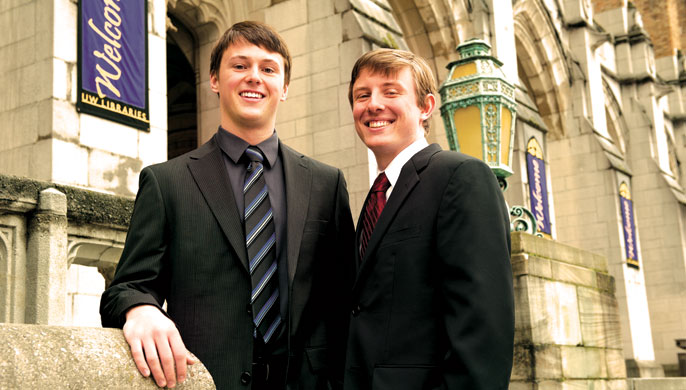 Two Good
UW joins Stanford, Harvard, Brown and Princeton with most Rhodes scholars
Two UW SENIORS were selected in November to receive Rhodes Scholarships, making the UW the only American public university with more than one Rhodes Scholar for 2012.
The UW joins Stanford (five), Princeton, Harvard and Brown (four apiece) as the only universities to have more than one Rhodes Scholar among the 32 selected from 830 candidates for 2012.
The UW recipients are: Byron Gray, who is majoring in political science; law, societies and justice; and Asian studies; and Cameron Turtle, a bioengineering major. Both students, who will graduate this year, will study at the University of Oxford in Great Britain with full financial support. They have both participated in the UW's College honor's program.
Gray, who is from Post Falls, Idaho, will pursue advanced degrees on contemporary India and socio-legal studies. Turtle will study cardiovascular medicine. He is particularly interested in point-of- care technology and how cell-phone technology can serve as a tool for diagnostic tests.
Turtle credits Mona T. Pitre-Collins, director of the UW Office of Merit Scholarships, Fellowships & Awards, with helping prepare them for their Rhodes Scholar interviews. Pitre-Collins says that because there were four students nominated from the UW, she had the opportunity to prepare the students as a group. They met four times to do mock interviews with questions they likely would be asked by the interviewing team.—Julie Garner