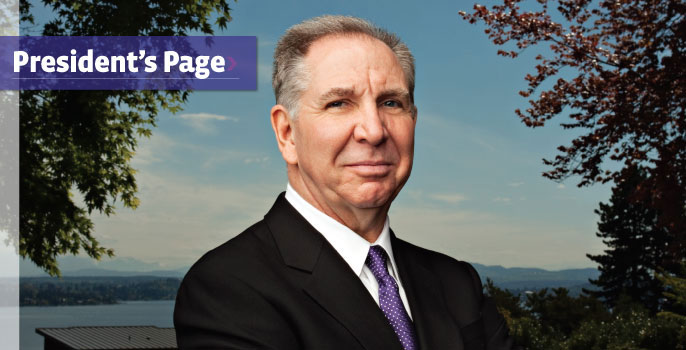 How the UW can make a bigger impact
THE UNIVERSITY OF WASHINGTON has always been on the frontier. From our founding 150 years ago on the edge of the wilderness to the discoveries that have led to such advances as modern ultrasound technology and the Hepatitis B vaccine, the UW has been the launching pad for ideas that have had an impact on lives in How the UW can make a bigger impact our local communities and around the world. It's undeniably evident that a belief in the evolution of big ideas to big impact is what has made the UW and our region what they are today. And it's just as clear to me that translating UW ideas to real-world solutions is what will drive what's next for the University of Washington and our state.
While the UW is well positioned to use the talent we attract—students and faculty—to generate ideas, we can't stop there. We must propel those ideas out of our University and into the places where they can make a difference. To help us do this, I'm excited to be launching a new three-part initiative focused on "Ideas to Impact," or "i2i."
First, we're committed to being an active partner in driving our economic future by accelerating our research commercialization efforts. We've had substantial success in the past. Overall, more than 260 companies have been started from UW research. But we think we can do even better. We plan to double the number of new start-ups created from UW research within the next three years. That's a big, audacious goal, but we're confident we have the talent and the plan to reach, or maybe even surpass, it. Our team in the UW Center for Commercialization, led by Vice Provost Linden Rhoads, has developed an innovative suite of programs to help move discoveries from our labs to the marketplace. We're building on this base by devoting existing space on campus to serve as a new-business incubator and by working extremely hard to figure out a creative way to help start-ups obtain early-stage capital.
Second, we are committed to using our global reach for local results. Many of our external and internal community stakeholders have identified challenges they want to see the UW address: education, the environment and health. Tackling these large-scale, hugely complex issues requires innovative, boundary-defying thinking— just the kind of interdisciplinary work around which the UW's research and teaching are coalescing more and more. With the extraordinary capacity found at the UW, there's no reason that the lessons about how to respond to these challenges can't be learned with our region as the test bed.
Finally, we are not going to forget the importance of holding a mirror up to ourselves. I've always found the fact that we in higher education tend to study everything but our own book of business to be very curious. I'm not going to let us fall into that trap at the UW. Facing myriad pressures, public universities are going to look different in coming years. Now is the time to reimagine higher education. We have work to do, but I believe the UW can lead the change in reinventing public higher education, by finding new ways to utilize technology, continuing to be creative about our internal business processes and ensuring that families from all economic backgrounds can send their children to college. As we begin to wind down our 150th anniversary celebration, I'm eager to look ahead at how the UW can be an even stronger contributor to our state and nation. It's remarkable all the ways the UW has already had an impact. But when I think about all the ideas percolating on our campuses today, there's no doubt in my mind that the UW has only begun to make its mark.


Michael K. Young, President