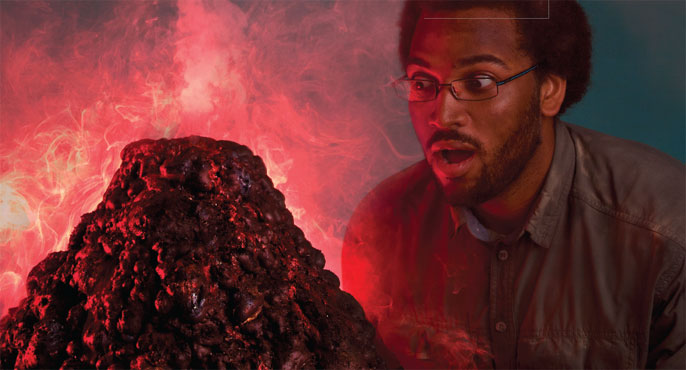 Science Explodes!
AT THE AGE OF FOUR, CHARLES PLUMMER SURPRISED HIS AUNT BY EXPLAINING THE AERODYNAMIC DIFFERENCES BETWEEN A VOLVO AND A TRANS AM. Wowed by his curiosity and intelligence, Cathy Hill, an accomplished engineer in her own right, recalls the moment as the point where she began encouraging her nephew to pursue the sciences.
This early nudge paid off, and Charles is now on the Ph.D. track in the College of the Environment's Department of Earth and Space Sciences, studying large volcanic eruptions. He's working toward a better understanding of how elements are distributed in the earth's crust. "The earth's elements shape all we know and interact with, and this is a relationship that will only grow more complex."
Charles credits his Seattle Chapter ARCS Foundation Fellowship donated by Washington Research Foundation for allowing him to keep the focus on his studies and not the tuition bill. The award helped defer the unexpected costs a PhD program presents, benefiting Charles as well as the Geosciences department. "It's critical for donors to know they are supporting more than an individual; the field of study gets a boost."
Whether he's mentoring undergraduates as a teaching assistant or visiting local middle and high schools to share his enthusiasm about the latest advancements in volcanology, Charles is quick to pass on the same encouragement he received from his aunt so many years ago. To learn more about ARCS, visit grad.washington.edu/advancement/arcs/.