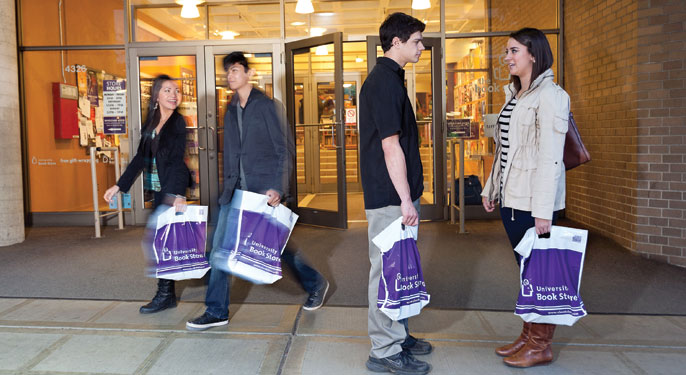 Ron Wurzer photo
Surviving and Thriving
Innovative management keeps University Book Store successful despite ongoing upheavals in the publishing industry
Imagine running a business in which several upheavals inside a few years could chip away all the profit unless you were a crack decision maker unafraid to innovate. That set of facts applies to University Book Store.
Ever since a couple of UW students opened the store in 1900 in a closet next to the UW President's office in Denny Hall, University Book Store has handled all the competition thrown its way. But today, University Book Store—the third largest independent college store in the U.S. in terms of revenue and among the largest bookstores nationally—is facing a threat unlike any other.
While the arrival of big-box retailers like Borders and Barnes & Noble were worrisome, the game-changing development of online sales and the creation of the e-book have mounted a monumental challenge to the venerable bookstore, which has made its reputation on its ability to provide UW students with books and items they need at a fair price.
Luckily for the UW community, Chief Executive Officer Bryan Pearce and a board of committed trustees have piloted the bookstore successfully through turbulent times while working with the razor-thin margins that define profitability in the book business. But the question remains: as technology continues to upend the publishing industry, can University Book Store not only hang on, but also thrive so it can continue to serve students?
"We are continually looking for opportunities to successfully position the Book Store for the future, regardless of what it brings," Pearce says. "Our print-on-demand, digital book; online coursebook rental program and online course-book price comparison are examples of this."
Among bookstores, University Book Store stands out from the competition. "We are an independent corporate trust," says Pearce, who has been running the bookstore since 1990. "Our beneficiaries are the individual UW students, faculty, alums and staff. Central to our mission is serving UW students and providing them savings and benefits whenever possible." As a trust, the bookstore isn't actually owned by the UW, but is associated with it.
"The University Book Store and the University of Washington Alumni Association share a commitment to serving the UW community," explains Paul Rucker, '95, '02, Executive Director of the UW Alumni Association. "These two non-profit entities have different functions but their purpose is the same—to serve and strengthen the UW."
Rucker points out that both the bookstore and UWAA work together to build relationships with alums. UW grads who join the UWAA receive a 10 percent point-of-purchase discount on books, supplies and merchandise purchased online or at any University Book Store location (excluding textbooks and Tech Center items) just by showing their UWAA card or entering their UWAA number online.
The Book Store now offers a new online course-book price-comparison resource that allows students to competitively shop for their course books. That is on top of the annual UW Customer Rebate that returns 10 percent of eligible purchases to UW students, faculty and staff. Every year, the Book Store returns more than $1 million to its UW beneficiaries—mostly students. Since the rebate program started in 1930, the store has returned $32 million to its customers. But that's not all; University Book Store also has given out student scholarships totaling more than $800,000.
"I didn't realize how embedded [University Book Store is] in the University community," says Almeera Anwar, a UW senior who serves as vice president of the store's Board of Trustees.
The University Book Store brand has also expanded into the suburbs, too. Northend Huskies can enjoy a Top Pot doughnut and coffee at the Mill Creek store. The latest venture is the opening last October of a University Book Store at The Landing in Renton. By next fall, a brand new 5,000-square-foot store will open in the remodeled Husky Union Building on the UW Seattle campus.
University Book Store reaches out to writers who self-publish through its Espresso Book Machine in the University District store. The Book Store also hosts about 500 author events throughout the area, drawing authors ranging from Pulitzer Prize winner Marilynne Robinson, '68, to President Bill Clinton. And in another innovative move, Book Store leadership contacted Powell's Books in Portland, Ore., the nation's largest independent used-and-new bookstore, to help launch a used-book business.
As for the future, University Book Store will keep adding textbooks used in local private middle schools and private high schools. The store recently launched a mobile version of its Website and will be looking for partnership opportunities with online companies to enhance offerings to the UW and other communities that it serves. Pearce says real estate is another strategic advantage. University Book Store leases property to 20 tenants in Book Store-owned properties.
"As our business transitions," Pearce says, "we are in a position to leverage our real estate assets to ensure success." And that's good news for the UW community.
—Julie Garner is a Columns contributing editor