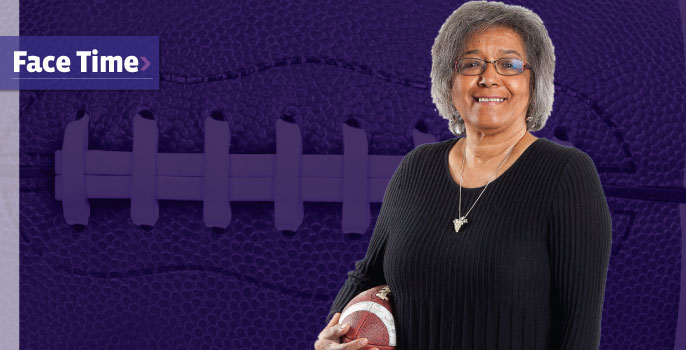 Photo by Ron Wurzer.
The Dawgmother
Catching up with Gertrude Peoples, Founding Director of UW Student Athlete Academic Services, and recipient of the 2012 Charles Odegaard Award for her work on behalf of diversity
Peoples began her University of Washington career in 1969 as an academic counselor in the Office of Minority Affairs. Two years later, she became the founding director of Student Athlete Academic Services, which provides scholastic and personal support to student athletes. A particular focus was addressing the needs of minority students. "They needed a mom away from home. The natural thing for me is to believe that they can succeed. Failure is just not an option."
"It was a thorny time." When the Seattle native was hired, she was tasked with soothing racial tensions that plagued the football team in the early 1970s. "The black athletes didn't feel welcome in Tubby Graves [the athletic department building]. One of the primary things was to change the culture so they did feel comfortable and like they belonged."
She hit the ground running—almost literally. "I walked this campus and reached out to departments and professors to make friends. I really got to know people."
"I heard Martin Luther King Jr. speak both times he was in Seattle and that changed my life forever." The experience was a partial inspiration to pursue a career in education. "It was like a light had been turned on!"
The FBI wiretapped the family phone. While Peoples was working at the UW, her sister and brother, the fi rst president of the Black Student Union, were UW students. Their civil-rights activism worried authorities. "I was at home the night the FBI came and interviewed my mother. It was unnerving. If anyone was innocent of anything, it was my family."
Peoples felt both subtle and overt prejudice on the job. But "I just focused on the students. Those were the eyes who came to me full of wonder."
She became the first female athletics recruiter at a major university in 1972. "I could sell the program because I really believed in it. I just had faith that it was a good place for students. I still do."
"Parents liked the idea that someone who wasn't a coach was looking after their student both academically and personally. Parents are the best allies. I would never call their parents if the student wasn't sitting in my office, though. It isn't fair to talk behind someone's back."
Peoples receives stacks of Christmas cards each year from former students; many have become personal friends such as UW player and NFL Hall of Famer Warren Moon. "I recently had a health scare and I've been stunned by the support and love that I've felt. I get notes from kids who were here 20 years ago and still remember. I get a lump in my throat. The best compliment anyone can get is for someone to say you were really a friend."
—Deanna Duff, '02, is a Seattle freelance writer.