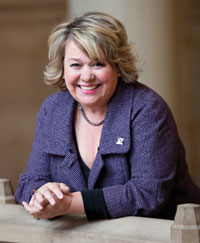 Photo by LaVie Photography
I'VE MET THOUSANDS OF ALUMNI since I took office in September as president of the University of Washington Alumni Association. And it doesn't matter if it's at a football game or a lecture or a salmon barbecue outside of Seattle. What I hear over and over again is that alumni most appreciate the UW for knowledge and their access to it.
What I also hear loud and clear is the pride alumni feel for the UW. And how they are concerned for the future, given the dramatic cut in state support and the struggling economy.
As we have been reminded during this yearlong celebration of the UW's 150th anniversary, the UW is such an integral part of life here. The UW's founders were Seattle's founders, too, and their spirit of ingenuity and ability to think differently are what made this area so special—and made the UW what it is today.
As products of the University, alumni have enriched our world with incredible achievements, stunning works of art, inventions that save lives and make for a better world. Our beloved alma mater is threatened by budget cuts and we need alumni to rally to support our institution. Otherwise, the quality of the UW—which has made us one of the most highly rated universities on the planet—will suffer.
Our role as alumni is to champion the UW. To get involved, to speak up, to do everything we can to get the word out that higher education as we know it needs to be preserved for generations to come. A healthy University serves us best—in creating jobs, in bolstering our economy, providing top-notch health care, educating our citizens, and so much more. We can't let these budget cuts affect the value of our degrees.
Now more than ever, we need to get involved to save our University. So what can we, as busy alums, do? The UWAA offers many ways to engage. Join UW Impact and become an informed advocate. Buy a UW license plate to support student scholarships. Talk to your legislator about higher-education funding. Be involved. Be a champion.
To show our appreciation for UWAA members, we are holding a special event on April 20 that is a part of HuskyFest. We'll have live jazz, food, drinks and appearances by UW celebrities under the UWAA tent on Red Square. UWalum.com/events has all the details.

Susan Wilson Williams, '73
President, UW Alumni Association