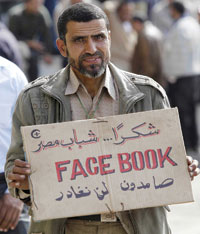 Credit: FACELLY/SIPA/1102041910
You could say Philip N. Howard predicted Egypt and Tunisia's recent revolts. In his book,
The Digital Origins of Dictatorship and Democracy: Information Technology and Political Islam
, the UW associate professor of communications examined 75 countries with significant Muslim communities and found a clear relationship between the rates of social media diffusion and democratic outcomes. He also developed a recipe for making modern democracies—having a wired, civil society with a relatively small, well-educated population—and found at least two countries that would be likely candidates for a revolution: Tunisia and Egypt.
That's because both were ruled by authoritarian dictators, are heavily Muslim, and had large civil societies and lots of Internet users.
As the world saw, it was digital media that so effectively helped topple the two autocratic regimes. As one protestor said, "We used Facebook to schedule the protests, Twitter to coordinate and YouTube to tell the world."
The revolution was good for Egyptians, but perhaps not for Howard's research. He recently applied for a National Science Foundation grant to study social media use during Egypt's 2011 elections.
"Egypt has the second largest blogging community in the Middle East, after Iran, and they were supposed to have a rigged election in September," he says. "I was pretty sure the election would turn ugly; I didn't think it would happen earlier."
—Julie H. Case