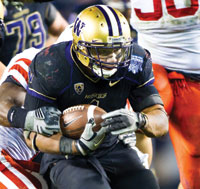 Alaska Airlines has signed a deal to give the University of Washington $700,000 in cash and sponsorship benefits for each of the next five years for the naming rights to Hec Edmundson Pavilion. The facility in January was renamed Alaska Airlines Arena at Hec Edmundson Pavilion.
Senior quarterback Jake Locker ended his Husky career in style by leading Washington to a stunning 19-7 upset of No. 17 Nebraska in the Holiday Bowl. Sophomore running back Chris Polk (177 yards rushing) was named the game's Offensive Most Valuable Player. Senior linebacker Mason Foster, the game's Defensive MVP, led a Husky defense that held Nebraska to just 189 yards of total offense, the third lowest total in bowl history.
The Husky women's soccer team capped one of the best seasons in school history by making it to the Elite Eight of the NCAA Tournament. The Huskies (13-9-2) scored two tournament upsets, eliminating No. 2 Portland and UC Irvine. The Huskies' run ended with a 1-0 overtime loss to Boston College in the quarterfinals.
The UW women's volleyball team made it to the Elite Eight of the NCAA Tournament in December before being eliminated by eventual NCAA finalist California. The Huskies (24-9), who upset No. 2 Nebraska in the Sweet 16, finished the season ranked sixth in the nation.
Jamie Clark has been named coach of the UW men's soccer team. He replaces Dean Wurzberger, who stepped down after 19 years with the Huskies. Clark, a former All-American at Stanford, coached at Creighton last year and at Harvard the two seasons before that.
Huskies radio announcer Bob Rondeau has been named Washington Sportscaster of the Year by the National Sportscasters and Sportswriters Association. It was the eighth such award for Rondeau, who handles play-by-play for Husky football and men's basketball.
Huskies Celebrating Huskies, an event that gives Husky fans from all over the state of Washington the chance to meet with Husky coaches and athletes, has unveiled its 2011 schedule.
The schedule:
May 9: Bremerton (Kitsap Conference Center)
May 10: Tacoma (UW Tacoma)
May 12: Everett (Everett Event Center at Comcast Arena)
May 16: Spokane (Location TBD)
May 19: Portland (Pure Space, Pearl District)