True to Mission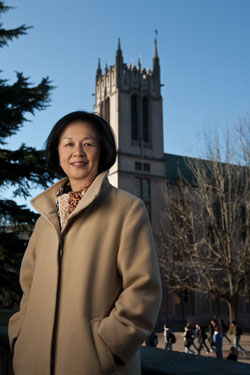 Photo by Stephen Brashear
To say that we are living in interesting times in higher education is truly an understatement. At the University of Washington, we face a budget challenge the likes of which we have not seen in more than 40 years. As I talk to people currently at the UW, no one can remember a time quite as challenging as this. Yet that's not to say that our UW community has not seen tough times—on the contrary, we've been through many. Founded during the Civil War, our University has seen two world wars, the Great Depression and the Cold War. We've weathered all these things and more, and in doing so, we've not only survived, but we've grown and thrived to become one of the best public research universities in the world.
In good times and bad, our primary mission has always been and will always be to provide the very best learning experience we possibly can for our students, transforming their lives through opportunities in the classroom and outside the classroom, through community and global collaborations, through firsthand research and discovery, and through engagement in the broadest sense. No matter what happens to the way we are funded, we will always stay true to this mission that is so fundamental to being a "public" university. We wholly believe that everyone should have the opportunity to reach their full potential and achieve their dreams. For 150 years, UW students have received that opportunity through the learning experiences they found here.
Elva Arredondo, '95, is one of those students. Elva moved to Seattle from Mexico as a teenager. The first in her family to go to college, she earned scholarships to help her attend the UW while her mother worked two jobs to provide for her family. When Elva arrived here, her professors saw in her a strong intellectual curiosity and drive, but not a clear sense of how to channel it. An intensive study-abroad trip and close contact with one of our star faculty members made all the difference. When Elva got back to campus, she grabbed every opportunity she could, working with several professors on research projects and pursuing additional study-abroad opportunities.
Eventually, Elva graduated with honors and left the UW for doctoral study at Duke. Today, she is on the faculty at San Diego State University, where she is transforming the lives of countless others through her dedicated work on health disparities and cancer and obesity prevention.
Elva's is just one among many thousands of stories of students who have come to the UW. Continuing to provide the kinds of life-changing learning experiences that Elva and others have found here means that we must continue to be able to recruit and retain world-class faculty. It also means we must navigate some turbulent times. I'm confident we will not simply weather these times, but will lead the change to ensure the UW continues to attract fine students who learn and contribute while they're here and then go out into the world and become leaders. At the same time, we'll become even better at attracting and retaining the best faculty and staff and at partnering with the community and world around us.
In these uncertain economic times, I am also delighted that the UW Alumni Association has made the exciting decision to engage more actively in advocacy efforts that support higher education and the University of Washington. UW Impact—a civic and political advocacy program launched out of the nonprofit UWAA—is a wonderful resource for Husky alumni and friends who want to learn how to take action for the UW and our students. Through these efforts, we can all help ensure that students like Elva continue to have the opportunity to transform their lives.


Phyllis M. Wise, Interim President