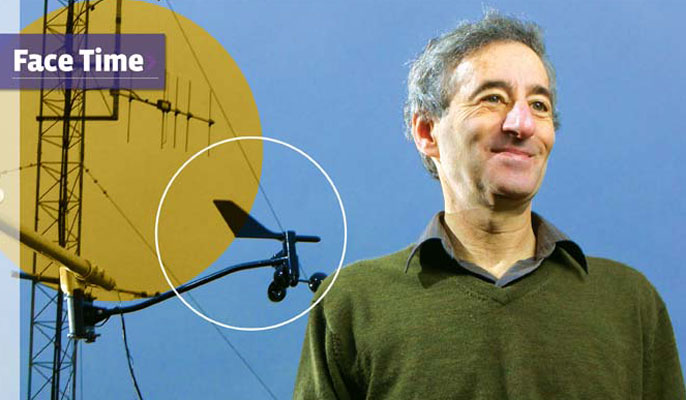 Cliff Mass and weather station technology atop the Atmospheric Sciences Building on the University of Washington campus.
Photo by Matt Hagen
On the Radar
Who: Cliff Mass
Known As: Professor of Atmospheric Sciences
Known for: Blogging about Northwest weather
As Mark Twain apocryphally complained, everybody talks about the weather, but nobody does anything about it. Cliff Mass, professor of atmospheric sciences, is endeavoring to alter that equation. The second half, that is—the first may be unequivocally true. If you are, say, a particle physicist, you might encounter one person a month who wants to engage in a lively conversation about it. But weather?
"People want to talk about the weather all the time," Mass observes, sitting in his favorite personal weather station, his 6th-floor professor's office in the Atmospheric Sciences and Geophysics Building. "The number one reason people watch local news is the weather. It's like some sort of naturalistic religion—a power greater than ourselves that we see all the time. I love it."
One might apply that phrase—"see all the time"—to Mass himself. Perhaps the most conspicuous weather guru in the Northwest and heir to former TV weatherman Harry Wappler's local fame, he is regularly quoted in local news climate stories, is the author of a popular book about our region's weather, The Weather of the Pacific Northwest, and writes a blog on the weather that receives as many as 600,000 unique visitors a month. That's nearly the equivalent of the entire population of Seattle, avidly reading what Mass says about weather and climate.
A spare, crinkle-haired professorial type from Long Island, Mass has adored weather since he was a boy, first becoming enthralled with storms, then, by age 8, installing a hobby weather station at his home. Although he was almost equally drawn to astronomy in college (he studied with Carl Sagan at Cornell), a fascination with meteorological events won out in the end.
That's why he believes his next book could be even more popular than the last. He's aiming for a national, rather than regional, audience with what is provisionally titled Secrets of Weather Forecasting. "Think people will go for that? Bet I can sell 100,000 copies. Of course, I can guarantee a best-seller if I just write some nonsense denying global warming."
He is of course jesting about writing a book that would debunk global warming. Like Sagan, Mass accepts the role of scientists as evangelists against climate change.
"Global warming is an extraordinarily serious issue, and scientists have a key role to play in communicating what is known and what is not about this critical issue," Mass says. "It's imperative that scientists communicate directly with the public, and we now have the tools to do so—such as my blog."
The new book will describe, in everyman terms, the ultra-high-technology modern forecasters rely on. Three to five days out, Mass avers, regional forecast abilities are now close to 100 percent accurate. That's because several large computer clusters, such as one in the Atmospheric Sciences Building, run dozens of massive simulations based on satellite, radar and other data, and continually adjust the results. And, a forthcoming radar station on the Pacific coast near Hoquiam will soon vastly enhance our ability to "see" the atmospheric features far out in the ocean that bring weather our way. Even now Puget Sound radar is so precise that Mass consults radar maps online to see where rain is falling—he doesn't want to get poured on—before he commutes along the Burke-Gilman Trail to campus on his bike.
Mass himself has devoted his professional life to creating programs that will, in effect, change the way weather forecasters do business.
"Once our computer simulations become good enough, we can be taken out of the loop," he predicts, somewhat mischievously. Is he, in effect, predicting the demise of forecasters at local weather stations altogether?
It may be the sort of forecast he savors. He himself is not in the business of daily weather forecasting.
"I'm an atmospheric scientist," he says, when asked if he's a meteorologist or climatologist. Which may be why he'll occasionally add a testy note to his weather blog when readers accuse him of failing to warn them about upcoming weather events, such as the pre-Thanksgiving snowstorm that tied Seattle in knots last year. The blog is meant to explain the phenomena behind Northwest weather and climate—not forecast it.
"This is a great area for weather. Our storms are big," he enthuses. "Once we have all the data we need from out in the Pacific, our forecasts will get even better."
In his office, Mass sits beneath a picture of a rainbow drawn by one of his boys as a kid. Its end points toward Mass' pot of gold: the computer stations on which he scans all the information undergirding his career. Although there is a small weather station on the roof of the Atmospheric Sciences Building—with a great view of Lake Union and downtown Seattle—Mass would rather be at his desk, calling up innumerable charts, maps, radar readouts and other depictions of the weather on side-by-side flat screens. To him, it's like a very high-tech video game.
"This is not really a career. It's a hobby," Mass says, admiring a graphic display of predicted Northwest atmospheric pressure gradients on his computer. "I love it. I'm still having fun."
In addition to this story, writer Eric Lucas has weathered 1969's Hurricane Camille and a near miss by lightning strike in the Colorado Rockies.