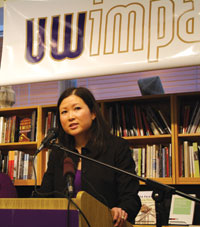 Photo by Mike Snowden
On Dec. 22, the UW Alumni Association's board of trustees met with local reporters and television outlets. The purpose was to launch UW Impact and start a conversation about the future of the UW and higher education.
The state's legislative session is in mid-swing, and the UW is once again fighting to preserve its core funding. But this year the University isn't alone in Olympia. Members of the UW Alumni Association are there, too. Through UW Impact, the association's independent advocacy group, a powerful voice is changing the way alumni engage with their legislators. And with your help, it's working.
UW Impact is not about politics. It's about civic engagement and gathering people in our community to discuss the things we care about most. Higher education in our state and the University of Washington in particular are worth standing up for. That's what alumni do now. Whether it is football or philanthropy, supporting your university is part of the alumni experience.
This is why you became a member, why you gave a gift—to support the UW you love and to ensure it is strong and healthy for generations to come. UW Impact provides another way to engage.
Imagine the strength of our 50,000-person member community speaking up in support of the University of Washington. Through UW Impact, we are making it easy for alumni and friends to get involved in the future of the UW. Learn more at UWimpact.org.
I am proud to endorse UW Impact because it is a movement I truly believe in. I got involved with the UW Alumni Association five years ago for opportunities just like this. It's one way I can give back to the university that has given so much to me and my family.
This is an exciting time for the UW but a difficult time for the state. Help us make sure the University of Washington's future is sustainable. Join us in sharing your support for the impact of higher education on our families, our economy and our shared future.
Sincerely,



Colleen Fukui-Sketchley, '94
President, UW Alumni Association
Here's How You Can Get Involved:
UW Impact is a civic advocacy resource sponsored by the independent, nonprofit UW Alumni Association. It provides publicly accessible information on issues affecting the UW and higher education. Learn more at UWimpact.org.
Talk with your friends, relatives, neighbors and all those who are concerned about higher education and the UW.
Receive e-mails that keep you informed about the issues.
Attend a town hall meeting, or sign up to host a community conversation in your area.
Find your legislators and learn how the UW affects your own neighborhood on the UW in Your Community interactive map. Go to uw.edu/staterelations.