Roger E. Moe, 1930-2010
Fighting Cancer with Compassion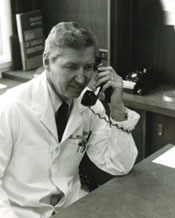 Roger Moe, '52, '59, '68, who as a University of Washington professor of surgery used his personal experience as a cancer patient to shape how he cared for breast-cancer patients he treated, died Nov. 26. He was 80.
Moe was told he didn't have long to live after he was diagnosed with prostate cancer in 1986. He spoke to UW medical students about his feelings of having a terminal prognosis, and it was after that when he pioneered the idea that breast-cancer patients needed more than clinical treatment.
He put together a team of health-care professionals to treat his patients and show them that their doctors cared about them as people.
Moe, who was born Sept. 12, 1930, was inspired to pursue a career in medicine and cancer research after his sister died from Hodgkin's disease. He completed his college education at the UW, earning bachelor's degrees in chemistry and psychology in 1952, his medical degree in 1959 and his residency in 1968.
He is survived by his wife of 57 years, Emily Moe of Seattle; his son, Kris; a niece, Mary Fitz; two grandchildren and a large extended family. Donations may be made to the UW Foundation, in support of the Roger E. Moe Fellowship in Interdisciplinary Breast Cancer Care. Gifts may be mailed to UW Medicine Advancement, Attention Olena Nyzhnykevych, Box 358045, Seattle, WA 98109.