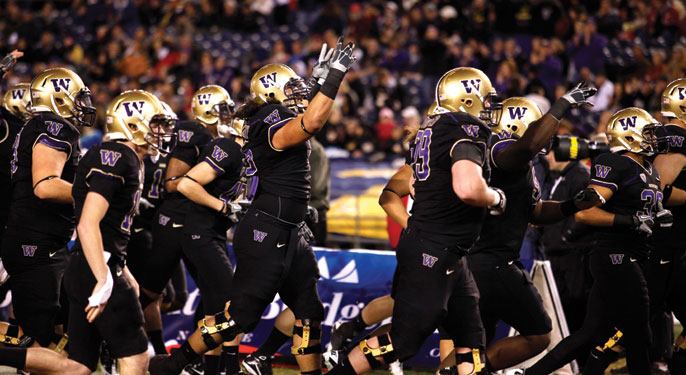 Photo by Michael Moore
When senior quarterback Jake Locker led the UW to an exciting Apple Cup win over rival Washington State on Dec. 4, the Huskies became bowl eligible for the first time in eight years. Three weeks later, Washington was celebrating its first postseason win since 2001, a dominating 19–7 victory over Nebraska in the Holiday Bowl.

View a gallery
of photos from the UWAA Holiday Bowl Warm Up.
The UW Alumni Association was in San Diego all week, as were thousands of purple-clad Husky fans. We held an info booth at the team hotel downtown and greeted UWAA members and fans. We threw a couple of Husky Happy Hours in the Pacific Beach neighborhood the night before the big game. And, of course, we proudly hosted the biggest tailgate party of the year.
The Husky Holiday Bowl Warm Up was the place to be on game day for roughly 4,000 fans. We enjoyed sunny weather, good food, Xbox Kinect and plenty of Husky spirit. Presented by WallyPark Premier Airport Parking, the Husky Holiday Bowl Warm Up was made possible by the support of UWAA members everywhere. Thank you, members and fans! Let's do it again next year. We can get used to bowl games.
What's next? Members, keep your eyes open for more member movie nights, discounts on summer concerts and more.