Aluminaries: Lynn Borland
Dobie Defender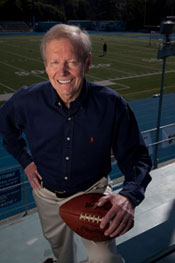 Most Husky fans know "Bow Down to Washington" by heart. But they probably don't know that when written in 1915, the chorus contained the line "Dobie, Dobie, pride of Washington." That's a reference to Gilmour Dobie, the Huskies head football coach from 1908 to 1916.
Under Dobie, Washington never lost, going 59-0-3. Many traditions began in his era, such as the Guy Flaherty Inspirational Award and the siren at football games. But despite his success, Dobie has been overlooked, because myth has replaced history.
Husky fan Lynn Borland, '66, aims to set the record straight with the publication of Pursuit of Perfection, a biography that, for the first time, paints a complete picture of the UW's most successful coach.
Among his many discoveries, Borland reveals that Dobie was an orphan (his grandchildren didn't know) and that stories of Dobie as a mean-spirited taskmaster were wrong.
"History got it wrong with Gil Dobie," Borland says. "He was beloved by his fans and players and his record is proof that he was a great coach."
—Jon Marmor
Pursuit of Perfection is available at the University Book Store, where UWAA members get a 10% discount and free shipping.