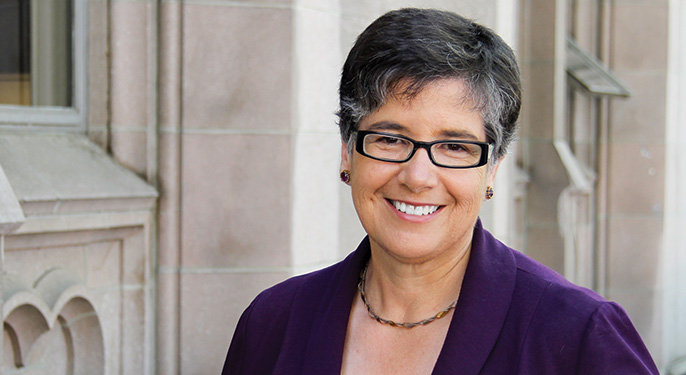 Infinite Opportunities
I am honored to serve as the interim president of the University of Washington—an institution that has been the fabric of my professional and personal life for nearly three decades. We are at an incredible moment in time for the UW and the state we serve so well. Our University is thriving; its contributions to the region and our world have never been greater. We truly do have boundless momentum.
This is also a time of year when we pause for celebration. June is a time of excitement and hope for the future for our graduates, their loved ones, and the entire university community. A college degree is a tremendous achievement and the UW's faculty and staff could not be more proud of our newest alumni.
Our grand goal, to be the greatest public university in the world, as measured by our impact on people, places and progress, is our guiding force. As a premier institution of higher education, one of our responsibilities is to ensure our students and graduates are prepared as globally engaged citizens. We strive daily to prepare our students and graduates to go out and change the world.
The goal is a lofty one but our collective belief in the power of possibility makes it attainable. Famine, disease, war, poverty and other social ills persist around the world and rightly deserve our continued efforts to eradicate them. Whether it's finding a cure for cancer or Ebola, working here at home to lift our communities and state, or developing new micro-businesses for developing nations, the UW is leading the way.
The UW Class of 2015—approximately 15,961 graduates—are receiving their diplomas in one or more of our degree programs from business and management and the health professions to the arts, social sciences and engineering. But they are leaving with so much more. Whether conducting research in their field, studying abroad and/or serving in the community, our students have myriad experiences that will help them navigate and succeed in careers that will be reinvented time and again in our rapidly changing world.
The Faculty Senate had this in mind two years ago when it approved the undergraduate diversity requirement. Implemented last fall, the three-credit course for undergraduates was a student-led initiative to ensure that all students learn about diverse cultures and complex societies in this fast-moving age of global interaction.
Recent events remind us that, across the country, and even on our campuses, we have more work to do on issues of cultural and racial differences.
In that spirit, students, campus leaders and I convened this spring at the newly dedicated Intellectual House to talk about how all of us must own both our personal responsibility for the culture of our campus and the institutional challenges we need to address to combat the racism in its many forms that persist here and throughout our society. I announced a wide-ranging initiative to minimize bias across campus, the Race and Equity Initiative (uw.edu/president/race-and-equity). The response has been overwhelmingly positive.
We value diversity and equity as core strengths and believe in the idea that all human beings are created equal and deserve equal opportunities to contribute to society. But history has shown that societal progress isn't a destination. We have to keep at it, sometimes faltering but then pushing ahead. Here in the Northwest, where our inclusive values are a point of pride, we are renewing our commitment to equity and diversity.
When the newest University of Washington alumni reflect on their time here—their friendships, memories, knowledge and ambition—I know they will be proud of their efforts and confident in their capabilities for whatever the future holds. Infinite opportunities are ahead for the UW, our students and graduates, and those we serve. Together with the University's talented and committed leadership team, I will continue to move our vision forward, supporting our students, faculty and staff as we work to make the world better for all.


Ana Mari Cauce, Interim President