New in Columns:
For four decades, the
UW Native American community
wanted a home of their own. The long wait is over;
Norm Dicks'
36-year career in Congress is over, but he's still rolling up his sleeves to fight for the same causes; Some alumni and friends who travel with
UW Alumni Tours
are moved to embark on a deeper adventure; Why do we enroll at the UW? To be taught by fabulous faculty, like the 12 who were named this year's
Teachers of the Year
.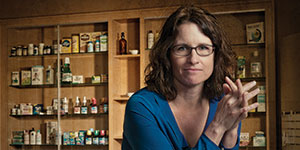 Since she was a student in pharmacy school, Shelly Gray has felt a strong connection to the situation many elderly patients find themselves in.
Read more
.

Flip through the
entire issue
online using our new digital magazine software. You browse through the pages just as you would the printed version.
Browse by Year
---