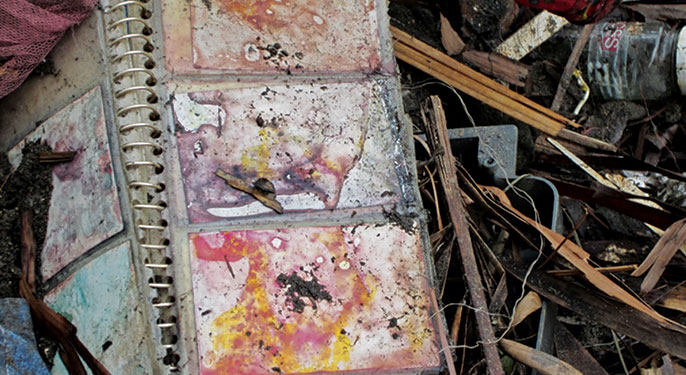 Editor's Note: Lauren Pongan, a graduate student in Southeast Asia Studies, traveled to Tanauan, Leyte, last December, not long after Typhoon Yolanda devastated portions of the Philippines. Here is her report:
When Jeff returned to his hometown of Tanauan, Philippines he didn't recognize it. "This can't be Tanauan," Jeff said. He arrived in early December by plane and then bus, about a month after Typhoon Haiyan had devastated several communities on the island of Leyte.
As is commonplace in the Philippines, Jeff worked overseas in Dubai, where he taught watersports to guests at a high end hotel. When his boss in Dubai refused his request for emergency leave, he quit. "I decided to quit my job and be with my family, thinking that I had almost lost them once," he explained.
In place of the streets where he had longboarded and the beaches where he had surfed was nearly complete destruction. Though he had seen similar images on TV and the internet before arriving, none of them could prepare him for the reality of mass graves and piles of refuse two stories high. Where there had been a community of simple houses on the beach were now mostly grey United Nations tents. The town was completely transformed.
"When I got back I couldn't understand why everyone was so dark," Jeff said. "Then I realized there were no more trees—no shade." After the storm, Jeff could not reach his family, but international media coverage of Tacloban, a coastal city of 221,000 and only 18 kilometers away from his family, showed that it was utterly decimated; he feared the worst.
"I knew how close our house was to the beach. After I hadn't heard from them in several days, I just assumed that my whole family had died," Jeff said. For days, Jeff couldn't eat or sleep. He alternately drank, cried, and felt numb. He stopped going to work, and watched the news roll in as the Philippines and the international community slowly began to assess the damage. The death toll just kept rising.
After about five days of silence and despair, his father called.
His family was able to call from another town in southern Leyte where they had gone to buy food, since the relief effort was slow in reaching Tanauan. Other families were not lucky enough to have that option.
They were also relatively lucky in that most of them survived the storm. Before the storm started, family member had gathered in Jeff's aunt's house, which was the tallest. Seventeen of them squeezed into second floor bathroom, which was most protected from the exterior. There they rode out the storm for several hours and prayed. A large concrete wall next to Jeff's parents' house had protected his families' houses from the brunt of the waves. A fully grown tree that uprooted crashed onto the wall, sparing Jeff's roof.
After the storm, Jeff's family survived on what little food they had. Drinking water was scarce. Jeff's family explained that since so many dead bodies were floating in the river and the ocean, no one wanted to drink the water if they could help it. Jeff's family drank Pepsi for several days until drinking water arrived from international aid organizations and the U.S. relief effort.
Jeff's family is only one of what the UN estimated were 15 million effected by the storm, or about 10% of the Philippines' population. Press reported that upwards of 6000 died throughout the Philippines, though an exact count will never be reached. Jeff's father's sister and brother are counted among the 6000. His uncle's body was never recovered.
The greatest tragedy is that, had the government communicated more clearly to coastal citizens, there is a chance that some lives could have been saved.
---
Anyone with internet or tv access could see the super typhoon coming. On radar it loomed largely over the Pacific Ocean— the storm was almost the size of the Philippines itself—and on an unwavering path for the archipelago. In spite of this, storm preparation was woefully inadequate.
Philippine President Benigno Aquino has publicly stated that his administration strives for "zero casualties" in times of natural disasters; however, his administration's response to one of the strongest storms in history was too little and too late. Likewise, their ineffective evacuation of coastal communities contributed to the high death toll.
International coverage of typhoon Yolanda showed food and water shortages (which often engendered looting), shelter shortages, lack of medical attention for storm victims, and rural communities that waited nearly a week for any aid. Storm victims spray painted messages to President Aquino and anyone who could offer aid, asking for help, water and food.
A month after the typhoon, these messages were frequently juxtaposed with handmade banners thanking—not the Philippine government— but the various international and domestic private aid agencies that had effectively distributed relief goods. Seemingly endless lines to receive relief goods stretched across every small barangay, or neighborhood.
On the three hour car ride from Ormoc (the major port city) to Tanauan, the damage became progressively worse. In Ormoc, the wind reached 185 miles per hour and left nearly everyone roofless, whereas in Tanauan, the tsunami-like waves destroyed homes entirely. Time and again, what residents of Tanauan articulated was that the warnings they received were inadequate. Though they were warned, sometimes multiple times, of a coming, "storm surge," few if any knew what a storm surge was. Since the Philippines regularly experiences typhoons during its "typhoon season," residents are accustomed to riding out storms in their homes. If people had understood the diction of storm warnings, would more have headed for safer places further inland? "Why couldn't they have just said that a tsunami was coming?" asked one exasperated resident of Tanauan in an interview. "That, we would have understood."
---
Though the deaths and injuries were unquestionably the most devastating losses for the community, the physical transformation of space, the loss of home, basic needs and livelihood have been immeasurable impactful for the future of the community.
The physical signs of destruction were breathtaking. A church field that had been planted with crosses for those buried and those still missing. A giant "New Leyte Edible Oil" drum on its side, swept by a wave. Century old trees with greater than 30 foot wide root systems uprooted. Agricultural coconut trees destroyed. A massive trash pile slowly growing on the main road into town, to accommodate the endless debris that, in many places, was still piled in the street above head height.
Before trash from the street is transported to this pile, it is often combed for usable scraps or materials, with the help of bulldozers and hand-sorting by children as young as five. Each time the bulldozer turned over a bucketful of debris there was a collective holding of breath: would this next turning of the pile unearth a corpse or human body part?
Burning trash, a plague of flies and mosquitos that bred in the trash, and the smell of rotting flesh–either animal or human–were a fixture of daily life in Tanauan even a month after the typhoon. Residents of Tanauan still largely sourced potable water from large black reserve bags provided by the UN, strategically placed throughout neighborhoods and refilled periodically.
There were also the small, but noticeable difficulties that made daily life taxing, like never having a cold drink, or a sleeping fan for humid nights with temperatures in the 80s and 90s. Because of the lack of lights and the large debris everywhere, a de facto sunset curfew was necessarily in effect.
---
The wreckage strewn throughout Tanauan was peppered with sights that were startling in their normalcy. Children's laughter echoed in the streets. Clotheslines with clean laundry hung outside of families' temporary shelters. The market in Tanauan center had once again become a bustling place for buying fish and limited canned goods in the day time.
Everyone, in whatever way they could, was attempting to create some sense of order out of the chaos. The most industrious and capable, or perhaps merely the luckiest of Tanauan's residents, had begun to rebuild their homes out of what usable supplies they could afford or salvage. A month after the storm, building supplies were just barely beginning to trickle in from beyond the town. The desire to create physical order reflected the residents' attempts to create mental, emotional, psychological, and community order, or maybe just any sense of peace.
A tightly knit community of 50,000 before the storm, every family in Tanauan had experienced loss. Though statistics have emerged about the number of storm victims injured, killed and displaced, the psychological and emotional damage in the wake of the storm is impossible to quantify.
Jeff's nephews–six-year-old Aiden and the slightly older Timothy–though able to laugh and play, were still deeply traumatized. When it rained intensely, the children would cry, remembering the typhoon and fearing another.
When Aiden described the storm, he pointed to the street and the neighborhood. "All of here is like a beach," he said. Given drawing paper and a pen to doodle, he drew a small boy in front of his house, with a sad face and tears. "He's crying because his father died," he said, matter of factly. Jeff later explained that one of the neighboring children had lost his father in the typhoon.
Though Tanauan is trying desperately to create order, it will be years before things can go "back to normal," especially as international attention and aid wanes. There is also, of course, the fear of what will happen come November, when the next Pacific typhoon season begins. Climate variability has led to increasingly powerful tropical storms, and the Philippines lies directly in their path.
For Jeff at least, the pain of loss has in no way eased. "Even now, if I walk around, my heart is pinched," he said. "It hurts to see what has happened to the community."
---
Just past a spray painted wall that read, "THE STREET OF BROKEN DREAMS," Josephine and her family are temporarily living in one of the United Nations temporary shelters. The grey dome tents cover the beach, which was formerly a neighborhood of simple houses on sand.
When the barangay, or neighborhood, captain came to warn of the super typhoon, Josephine chose to move eleven family members, to one of Tanauan's evacuation center. They rode out the storm and its aftermath for five days there.
When they eventually emerged, Josephine described the scene as akin to a cemetery, with wreckage and corpses in place of the town. "There was wood and tin everywhere," a neighbor added. Both women agreed that what was perhaps most shocking was the intolerable stench of the corpses that were still trapped beneath the piles of refuse.
Josephine was quiet and reflective about her family's situation a month after the typhoon. The tents, she said, though appreciated, were hot in the shadeless sun. Her family has started to collect wood for rebuilding their home, which they estimate to cost 20-25,000 Philippine pesos (or roughly $500 USD). This is a large sum for Josephine and her family to save.
Her husband is a part time driver and electrician. Though they anticipate future work for her husband as an electrician as Tanauan begins to rebuild, the local government, she said, was not hoping to restore power for several months at the earliest.
---
Rachel was amazingly calm as she told her story. In jeans and a thin, delicate white shirt, with clean black straight hair, she contrasted starkly with the head-height trash pile in the street behind her. The pile was where her house had stood before the storm.
Though she had prepared for the storm, it was too late, she said, that she understood what warnings of a "storm surge" actually meant. "How many years I stayed in my house and there's coming a storm. We never expected that the water was coming from the sea," she said. "I was shocked."
Though recalling the exact order of events was difficult, what Rachel remembers most clearly was saving her nine-year-old brother's life. When she found him unconscious and unresponsive, she administered CPR while propping his body on a relatively flat piece of corrugated tin. "After CPR I saw my mom, but she already died," she said.
She described the morning after the storm as surreal, with debris scattered everywhere, and, the lingering "taste of rain like the sea." That morning, Rachel and her family moved to a local minister's house that was still standing after the storm.
A month after the storm, she and her three young brothers were living in her auntie's house. Her father owns a junk shop, which now works to salvage useable materials from the storm debris, in hopes of earning enough to one day rebuild their home.
---
Eduardo did not believe the typhoon warnings. While his wife Belinda had evacuated to a shelter with their 26-year-old daughter Joan, Eduardo thought he could ride out the storm at home.
"What I understood was that there would be a strong wind. We never understood what a storm surge meant," he said. To survive the storm, Eduardo had to break through his second story window and crawl out into the rising water. Shortly after he exited, the house collapsed. He clung to a concrete structure until the water subsided.
He eventually joined his wife at the evacuation center, who was grateful that he had survived. They left after three days, when Eduardo said "there was nothing left of the town, but there were dead bodies."
At 62, Eduardo was a pedicab or a cycle-rickshaw driver, conveying people in his bicycle cab in and around the town. The storm destroyed his pedicab, and therefore his livelihood.
"I'm just waiting for my son in Manila to send money so I can start driving my pedicab again," he said. He estimates a new cab to cost around 16,000 pesos, or about $360 USD.
With the help of some neighbors, Eduardo was one of the few who had already rebuilt his simple wooden home, only twenty or so feet from the ocean at high tide. Asked about rebuilding so close to the water, he said that it was out of necessity. "We are afraid," he said, "but we have nowhere else."