An undergraduate experience for the greater good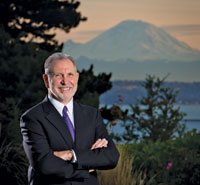 WHEN ARTHUR D. LEVINSON, '72, WAS STUDYING genetics and molecular biology at the University of Washington, contributing to research as an undergraduate was almost unheard of. In the early 1970s, undergraduates learned in labs and classrooms, but certainly did not peer into the microscope to report the differences between normal and cancerous cells in pursuit of research. But Art was a true trailblazer, even as a visionary 20-something. And his remarkable undergraduate research experience at the UW led him to develop some of the biggest cancer-fighting drugs of our time as a world-class scientist and CEO and chairman of biotech giant Genentech.
To recognize his contributions to science and humanity, we're honoring Art with the 2014 Alumnus Summa Laude Dignatus award, the highest honor the University and the University of Washington Alumni Association can bestow upon an alumnus. I believe it's equally important to recognize Art's curiosity and indomitable spirit as a young researcher—and the generations of undergraduates who have followed in his footsteps.
Every year, more than 7,000 undergraduates have the same research opportunities that Art helped pioneer. They learn how to solve real-world problems, complementing their coursework by connecting tangible dots, all under the steady mentorship of faculty and graduate students. The UW's unique focus on undergraduate research allows our young Huskies an unprecedented opportunity to work in tandem with some of the top minds in their fields. It's an integrated way of learning that teaches students how to unravel a tangled knot—with a practical, innovative and creative approach.
Last month, our undergraduates presented their work at the 17th Annual Undergraduate Research Symposium, the largest of its kind in the country. The students displayed posters and gave oral presentations on everything from microbiology to modern dance. Many students focused their research in STEM (science, technology, engineering and math), but visual design, performance arts, social sciences and humanities were represented, too. Over the course of 17 years, the symposium has grown from 70 students to more than 1,000, flooding Mary Gates Hall with brilliantly developed ideas and enthusiasm.
Their participation is an indicator of the intellectual horsepower of the University, as well as our ambition and passion to make the world a better place. Husky undergraduates contribute to the body of work that helps our faculty become National Academy of Sciences members, Nobel Prize winners and MacArthur Fellows. Their efforts reinforce our reputation as a fully integrated research powerhouse in the Pacific Northwest, with everyone from freshmen to professors emeriti making contributions. And along the way, our undergraduates have learned not only an enormous amount about their discipline and how to hone their conceptual capacity and problem-solving skills, but also about the persistence it takes to tackle tough problems. They have built confidence in their own abilities. And they have gotten a taste of what life might hold after graduation—and how they may make their unique mark on the world.
Across our three campuses, 9,800 UW undergraduates will earn their diplomas this month and enter the workforce one step ahead of their peers thanks to the passion, creativity and enterprising spirit we've instilled in the student experience at the UW. I'm optimistic about the future of our region and our world because of the characteristics and drive I see in these students and their early achievements. Art Levinson's Husky experience exemplifies how transformative learning environments can inspire an exceptional life. His story emboldens my own hope for all Huskies—to graduate as leaders, innovators and change-makers for the greater good.


Michael K. Young, President