New in Columns:
Rural areas are desperate for more doctors. An expanded medical school in
Spokane
could solve the shortage;
Art Levinson
led efforts to kill cancer. Now he's taking aim on aging; They inspired us and opened our minds. Meet the
2014 teaching award winners
; New football coach
Chris Petersen
is itching to take the Huskies back to the Roses.
Editor's Note: The letter to the editor in our June issue that said people upset over the internment of Japanese-Americans during World War II should "get over it" sparked a robust response from our readers. Read some of that feedback and a message from Columns editor Jon Marmor.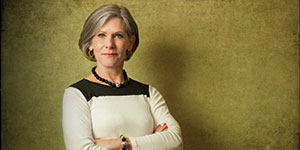 Laura Pavlou, '06, is on a mission to nurture the potential of women behind bars.
Read more
.
Flip through the
entire issue
online using our new digital magazine software. You browse through the pages just as you would the printed version.
Browse by Year
---