Making the world a better place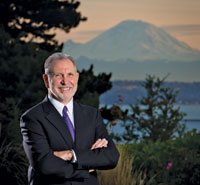 AS MY SECOND academic year draws to a close, I want to express my deepest gratitude to the many people—including UW students, faculty, staff, retirees, friends and, of course, alumni—who have helped me keep a very important promise. At Freshman Convocation last fall, I stood before our new students, as well as their families and friends, and pledged that they were entering a community where making the world a better place is not only an aspiration, it's the standard. In the nine months since that ceremony, the UW community has proven my point time and again.
Consider the Distinguished Teaching Award recipients featured in this issue of Columns, all of whom are consummate experts at wielding what Nelson Mandela calls "the most powerful weapon" for changing the world—education. All of these exceptional teachers have their own unique methods and styles. André Punt, for example, is known for his booming voice and infectious enthusiasm, while John Manchak's students once suggested the most appropriate Halloween costume for him would be Mr. Spock from Star Trek. But they all share an unequivocal commitment to creating a transformative learning experience for students. It's a commitment that we strive to reflect in all of our educational processes. This year we took some important steps to strengthen that commitment.
As part of our efforts to lead change in public higher education, our faculty have used leading-edge technologies to create "high-tech, high-touch" learning environments designed to both modernize higher education and make learning more accessible and more personal. In addition to using the latest online learning management tools, UW faculty have explored new possibilities, such as massive open online courses (MOOCs). And the recent launch of our online bachelor's degree completion program in early childhood and family studies is an exciting springboard to creating online degree completion programs in other fields, thereby opening the door for thousands of people in Washington and beyond to achieve their dreams of completing their college education and of making an even greater contribution to the world.
This past year also saw our UW community greatly enhancing our capacity to address complex challenges through the extraordinary research carried out on our campuses. This research is notable not only for its scale and impact, but also for its tendency to break boundaries. It is not just confined to the ranks of our excellent faculty. Students also are critical contributors. This year, more than 7,000 undergraduates participated in a significant amount of research. More than a thousand of them presented their research at the annual UW Undergraduate Research Symposium in May, sharing what they learned about such topics as new methods for targeted DNA sequencing, cultivating a sustainable farm at a prison, and much more.
UW research also cannot be confined to our community. This year our researchers truly showed what it means to turn the University inside out, taking their discoveries off our campuses and moving them into the real world where they can have real impact. It was just over a year ago that we set the goal of doubling over the next three years the number of start-up companies based on UW research. And guess what? It took our talented UW community only one year to meet that goal.
The success of our commercialization efforts will reap significant economic benefits for our state. More important, however, is the personal impact these discoveries will have on people's lives, here at home and around the globe. I saw a firsthand example of this when I visited Asia in April. As I prepared to speak at a reception with some of our wonderful alumni overseas, my eyes happened to land on a local newspaper with none other than the UW's own Chris Murray on the front page. Professor Murray and his colleagues from the Institute for Health Metrics and Evaluation and their collaborators made international news this past year with the release of their landmark report, Global Burden of Disease Study 2010, the most comprehensive effort in history to produce complete and comparable estimates of levels and trends in health worldwide. The impact of the study is huge. It will provide a platform to help make policy and education decisions that will improve the health of children and adults here in the United States and around the world for years to come.
This year our UW community unquestionably made our world a better place. Thanks to all of you for your part in this. Have a great summer—whether you get a long break or not—and I'll look forward to starting another remarkable year with you next fall.


Michael K. Young, President