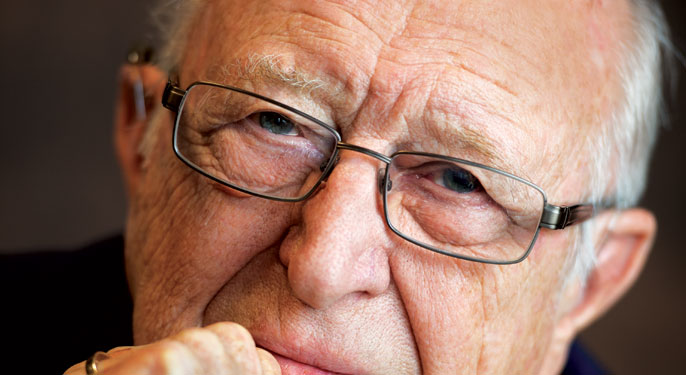 Dan Lamont
Mighty is the Man Who Wears the Purple and the Gold
The immense impact of Bill Gates Sr.
BILL GATES SR. gained wide acclaim for leading roles as husband, father, lawyer, philanthropist and global citizen. But when the University of Washington selected him Alumnus Summa Laude Dignatus for 2013, it tugged mightily at the octogenarian's heartstrings.
Resonate, it should. For more than six decades, Gates, '49, '50, befriended his alma mater. At the UW, he excelled at undergraduate studies and law school, met and romanced his wife, embarked on a career, rose to the Board of Regents, and raised record sums to benefit students and faculty. The law school's 196,000-square-foot, six-story building bears his name. From Husky Stadium's Row K, Seat 32—his seat—he cheered wildly for his teams.
"This is just a very good feeling," Gates said in an interview. "I'm very tickled about it." At 6-foot-6, the quietly imposing lawyer could easily intimidate, but he is straightforward and approachable. While Gates loved attending the UW, in reality, he never left. "That's true," he said, chuckling a little. "I'm 87 now and I still serve on committees."
Gates and his late wife, three-term Regent Mary Maxwell Gates, '50, brought up three children: Kristianne, Bill and Libby. (He has been married to Mimi Gardner Gates, former director of the Seattle Art Museum, since 1996.) His oldest daughter, UW Regent Kristi Blake, '75, said her respect for her father ballooned when she served with him on the UW's governing board. "The biggest lesson I learned from my dad," she said, "is to have a passion for all that you do." His youngest daughter, Libby Armintrout, also embraces the family's passion for the UW; she is a board member of the UW Carlson Leadership and Public Service Office and an active volunteer and contributor.
Of course, he also raised the other Bill Gates—the driving force behind Microsoft Corp. and one of the world's wealthiest people. By most accounts, that father-son relationship has been characterized as one of deep, mutual respect. In the forward to the father's 2009 memoir Showing Up for Life, the son wrote: "The next time somebody asks you if you're the real Bill Gates, tell them that you're all the things the other one strives to be."
Another well-known vignette underscores the two Bills' dynamic. An article about millions of children in poor countries dying of preventable diseases stirred Bill and Melinda Gates to turn to the family's elder statesman. The couple sent a note along with the newspaper clipping: "Dad," it read, "maybe we can do something about this." Etched in giant letters, the quote hangs like a billboard on an inside wall at The Bill & Melinda Gates Foundation, which formed in 2000 with the merger of the William H. Gates Foundation and the Gates Learning Foundation. Gates now co-chairs the merged foundation, the world's largest, with its $36.4 billion endowment. It targets global health, global development and United States education.
Despite his almost inconceivable success, the iconic multibillionaire son never totally eclipsed his father's extraordinary civic and cultural record: at least not here, not on his home turf. In the Pacific Northwest, as almost everyone knows, more than one Gates family member sports an epic resumé. Gates, an attorney, founded the notable law and lobbying firm Preston Gates & Ellis. He presided over the Seattle/King County and Washington bar associations. He worked on the boards of countless organizations including United Way and Planned Parenthood. In the '70s, Gates ran Seattle Public Schools' levy fight. In the '90s, he started the Technology Alliance, a regional push to expand technology-based jobs. After a 15-year run, Gates alone holds the honorary title of UW "Regent Emeritus."
Former President Jimmy Carter answered immediately and enthusiastically when Columns asked him about the UW's 2013 ASLD. President Carter told the magazine that Gates works tirelessly to create better opportunities for the poor and vulnerable around the world. "I personally witnessed his tireless commitment to social justice and health during an eye-opening trip we took together to Africa in 2002," Carter said. The trip took them to parts of Kenya, South Africa and Nigeria that were ravaged by HIV/AIDS. They visited with political and religious leaders, health workers and people living with the disease.
"Bill, Mimi, Rosalynn and I were transformed by these experiences," President Carter said. "I treasure his friendship. He reminds us all of our shared humanity and responsibility to each other."
Mention Gates to former UW President Mark Emmert and he radiates admiration. Emmert, '75, is the NCAA president who was UW president from 2004 to 2010. Emmert says Gates shows "unshakable integrity," "constant forthrightness" and "unquenchable love for the UW."
"Whether he is your boss or your friend, you just want to live up to his standards—to make him proud," Emmert said. "When I sit quietly to consider a difficult issue or tough choice, the voice that I always hear is Bill's."
Born in 1925 in a hardscrabble Puget Sound naval shipyard town, Gates did not spring from a prominent family. His father ran a small town furniture store. He went to Bremerton Public Schools, enjoyed Scouting and joined the U.S. Army during World War II before attending the UW on the G.I. Bill. When he graduated, it was a time of great change and chance. SeaTac International Airport opened that year and celebrated jet travel, but Gates stayed put. In fact, he has always lived in the shadow of Mount Rainier. And to this day, he stays in touch with childhood friends from Bremerton. His bridge club partners convened for 60 years. In an era of migration and mobility, he favored long, personal relationships and social roots.
Dan Evans, '48, '49, embodies one of those time-tested networks. Friends—and bridge club pals—for decades, both also served as regents. Washingtonians elected Evans governor from 1965 to 1977 and U.S. Senator from 1983 to 1989. The university conferred upon Evans the ASLD tribute in 2007.
"In the last decade, he has been as responsible as any one individual for the growth and recognition of the UW becoming one of a half-dozen top universities in the country," Evans said. "It's been a team effort but Bill has played a huge role."
Gates directed the Campaign UW: Creating Futures—a fundraising drive supported by 293,000 donors that exceeded $2.7 billion. He was "the hardest working chairman I've ever seen," Evans said, "always willing to make personal calls." Evans also admires Gates for continuing to make public presentations and travel on behalf of The Bill & Melinda Gates Foundation, saying his friend "doesn't believe in retirement."
Gates unabashedly extolled Evans in his memoir, calling him a "Master Citizen." Asked about that, Evans quickly retorts: "He could have written that about himself. He has done overwhelming public service." Acknowledging his public service, a formal UW Board of Regents resolution once hailed Gates as "patriarch of the first family of the university."
"There's some truth to that," said Bill Gerberding, UW president from 1979 to 1995, and another multi-decade friend of the Gates' clan. "There may be no other university with a family of that importance." Some may view Gates as the "father of" the co-founder of Microsoft or the "husband of" UW Regent and Seattle civic activist Mary Gates. Gerberding begs to differ, saying Gates distinguished himself through public service. "He has always been concerned," Gerberding said, "with society and its capacity to provide fairness to everybody."
When Gates joined the Regents, private fundraising grew in importance due to state funding cuts. Gates stepped up, tapping private wealth. "It's hard to calculate influence or importance in a university," Gerberding said, "but if private fundraising is important, he is larger than life."
"When all is said and done, he is a remarkably decent man," Gerberding added. "He is a good man with a big heart. And how lucky can a society be to have somebody with his generous public spirit."
One person who knows something about vigorous public service is former Seattle Mayor Norman Rice, '72, '74. His public life intersected with Gates often—at the United Way, at the UW, in a dozen large-scale civic works. Rice led Seattle from 1990-1997, a time when the Emerald City rose in stature in the nation's sight. Gates tapped him for a leading UW Campaign post.
Rice, president of the Seattle Foundation, portrays Gates as a quintessential lawyer, always prepared, and able to crystallize complex matters into their essence quickly. In meetings, "he will ask the two questions that need to be asked," the former mayor said. "He is always focused." Gates often kept quiet, Rice said, "but when big Bill decides he wants to opine, everyone listens."
"If you track his journey, social justice and economic opportunity are his core values," Rice added. "People have learned, once you meet the father, you aren't surprised what the son has delivered."
Wrestling with a slippery political football, Gates sunk his teeth into a hard-charging campaign to preserve taxation on estates, commonly known as the Death Tax. He wrote a high-profile book about it, penned op-ed pieces, gave speeches and convinced super wealthy people to sign petitions for it. He termed it a tax on "grateful heirs" and a "due bill" for those who had the good fortunes to be rich.
Practicing law, which he "enjoyed immensely," lent an excellent backdrop for public service. He encourages young scholars to pursue legal education. Asked to recall his proudest legal achievement, he pointed to a probate case. It entailed helping a widow settle a protracted, complicated estate. He called it "interesting, engaging and ultimately quite gratifying."
It may also come as a surprise that the most exciting item currently on his active agenda does not involve law, computers, science or social justice—but the dots connect. What he's most passionate about now is "the general movement to improve public education," he said, particularly pre-kindergarten early learning.
When UW President Michael Young first came to Washington, he was "stunned" by how often he heard the name Bill Gates associated with vital civic acts. Young quickly discovered that Gates "garnered enormous respect everywhere," "has tremendous integrity," and that "people listen to Bill and respond."
Gates "understands that the best way to build and develop community is to build and develop the university," Young said. "His passion for the university and the community is synonymous."
Since 1938, the University has granted its highest honor to more than 70 alumni who personify the institution's best traditions. Past recipients include luminaries such as Linda Buck, '75, 2004 Nobel Prize winning scientist for her research into the human sense of smell; world-renowned architect Steven Holl, '71; bioengineering pioneers Wayne Quinton, '59, and Donald Baker, '60, who revolutionized the field of medical instruments; and Beverly Cleary, '39, one of the most beloved children's authors of our time.
Gates likened the ASLD designation to "frosting on the cake" of his long and fulfilling service to the university.
Clearly, the distinction also speaks to a larger truth: 'Look out world,' it broadcasts proudly, 'the UW launches people like Bill Gates.'
—Stuart Glascock is a Seattle freelance writer and regular contributor to Columns. He also profiled 2012 ASLD recipient Steven Holl.