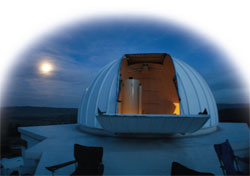 AT THE MANASTASH RIDGE OBSERVATORY, a UW facility located about nine miles southwest of Ellensburg, UW astronomy faculty and students will celebrate the observatory's 40th anniversary this month.
Built in 1972 with money from the National Science Foundation and the state of Washington, the observatory has contributed to a variety of scientific accomplishments as well as four decades of "marveling and staring." Hundreds of UW astronomy graduate and undergraduate students have used the observatory's 30-inch telescope to gather and analyze data.
For the anniversary celebration in June, there will be a talk on the history of the observatory featuring founders and past users.