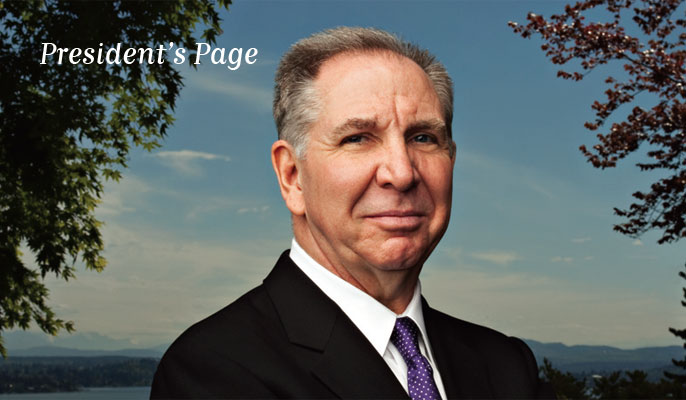 Public Universities Under Siege
OUR NATION'S PUBLIC COLLEGES and universities have educated America. Seventy percent of today's college students are enrolled at a public institution. We have been the workhorse of American higher education for the past 150 years, relying on a remarkable partnership between the states and the federal government, one providing funding for universities, the other providing essential financial aid to students. Both have done so in the belief that there was an inherent public good in creating opportunity for young people to advance their knowledge and capabilities.
This partnership has ensured access to higher education for generations of students, many of whom would not have been able to afford it otherwise. From the land grants of the Morrill Act in 1862 to the G.I. Bill, our nation has understood that an affordable, accessible college education was a pathway to opportunity and success and a fundamental investment in our nation's future.
Public higher education, though, finds itself under siege on two fronts: the unprecedented disinvestment by states during the Great Recession and concern from our federal partners about the increasing price our students are asked to pay.
I believe state and federal policy makers believe in the public good of higher education and remain strongly committed to keeping it accessible. But our historic commitment is being put to the test. The past three years have accelerated a trend that began 20 years ago of gradual state disinvestment in public higher education. At the UW, our state funding since 2009 has dropped by more than half. If that were all that had happened, we would have had to close shop and call it a day. But because we had historically low tuition, we were able to increase it by double-figure percentages each of the past three years to partially make up for the loss of state funding. We went from $7,700 in 2009 to $10,500 in 2012, a whopping 36 percent increase that still left our tuition on the low side of our peers. Other public universities have similarly sad tales.
We have seen a seismic shift in who pays for public higher education. Twenty years ago in our state, taxpayers footed 80 percent of the cost and students paid 20 percent. Today, students pay about 70 percent and taxpayers 30. That's a fundamental sea change. The actual cost of educating an undergraduate has remained remarkably steady over this time. In inflation-adjusted dollars, we actually spend less today per student than we did 20 years ago. Despite the rhetoric about the skyrocketing costs of higher education, it's not the driving force behind tuition increases at public universities. The real cause is this change in who pays.
As tuition has increased, we have ensured that those who could not afford to pay more are still able to attend the University. Thanks to federal Pell grants, state financial aid, and increasing our own financial aid resources by half, we enroll a significant number of economically disadvantaged students, and we promise them that they will not have to pay any tuition. One out of four undergraduates from Washington state pays zero tuition at the UW. These are especially the students our nation's public universities were designed to serve.
I would like our friends in the Administration to understand this dynamic. Tuition has risen because states have disinvested in their public universities. Whatever the federal government does, it shouldn't penalize institutions for the states' economic decisions. Nor should it punish those universities serving precisely the students they want us to serve. Help us convince our states to reinvest. Incentivize them to restore funding and maintain these wonderful institutions they have spent decades creating.
But please do not harm those institutions that are doing exactly what you want them to do—keeping high-quality higher education affordable and accessible to anyone who wants it.


Michael K. Young, President