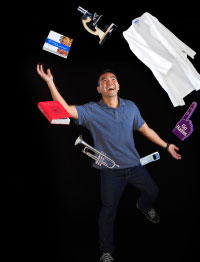 By day, UW senior Brandon Ing tackles challenging Biochemistry coursework and researches the genetic origins of Hodgkin's lymphoma. In the evening, his lab coat comes off and the music comes on. Whether it's picking up his trumpet to practice UW concert band selections or pounding out tunes on the piano, music recharges his batteries, giving the honors student energy to mentor UW students and volunteer at his church during his spare hours.
Brandon is able to juggle so much at once with help from scholarships — the EOP Celebration Scholarship, 2010 Bank of America Merit Award and the Mary Gates Research Scholarship, which allow him to stay focused on his eventual goal of medical school. By not having to work extra jobs, Brandon has been able to volunteer at the UW Medical Center Lung Transplant Division, intern with the UW surgery department and conduct research in Professor Marshall Horwitz's pathology lab. "I'm the first to tell students to take advantage of the rich research opportunities at the UW because it's great preparation for the future, a career and life."
Brandon decided to leave little for granted after a scary and eye-opening incident his freshman year. His mother suffered a heart attack, and while she recovered, the experience gave Brandon a deeper understanding of how much his parents had sacrificed to support him. "Now when I'm met by a challenge, I think about all the great opportunities the UW offers and that I owe it to others — especially my parents — to take full advantage of them and make the most of my education." To learn more about how you can support students like Brandon, visit giving.uw.edu.