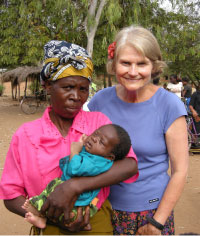 Whether in Seattle or Africa, Professor Diane Magyary, '77, has found that some things are universal when it comes to raising kids. "Parents everywhere want to do well by their children," says Diane, a UW School of Nursing professor and the first recipient of the Kathryn E. Barnard Endowed Professorship in Infant Mental Health.
Diane's five-year professorship supports her Seattle-based research on how stress factors, such as poverty, affect childhood development. For the past 17 years, Diane has spent two days a week working with families at Odessa Brown Children's Clinic, a satellite center of Seattle Children's. "What we try to do is cultivate the sense of joy that parents have with their infants," Diane says. Often this means helping parents find ways to spend more time with their children. Establishing stronger, healthier bonds early has long-term benefits, including better school performance.
In 2004, Diane started a project in Malawi working with families to see whether innovations in agriculture, nutrition and safe water practices could improve infant health.
Diane says the joy she feels from working directly with children has kept her committed to her work for more than three decades, while private support has paved the way for her research. "We want to do something innovative on the front lines in the real world, but it can be a struggle to find fiscal support unless you have something like this," Diane says. "It's quite an honor to follow in Kathryn Barnard's legacy."
Kathryn, a UW Professor Emeritus of Nursing who established the professorship, mentored Diane during her graduate studies. "When Diane has a goal in mind, she follows through and gets it done," Kathryn says. "I knew she would be a strong voice for infants, children and the nursing profession." To learn more about the School of Nursing, visit nursing.uw.edu.