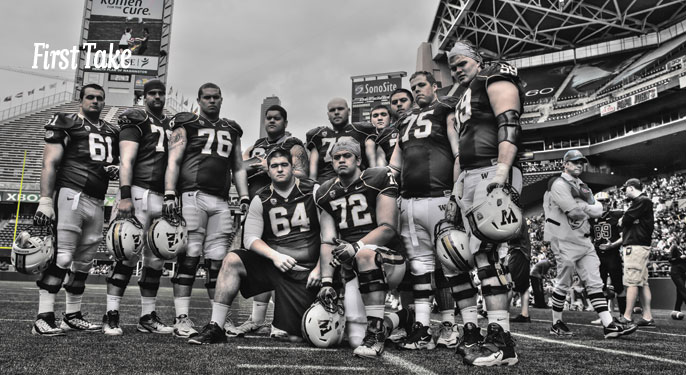 Photo and digital imaging by Michael Moore/Mrpix.com
New Home for Husky Football
These imposing Husky linemen can't wait to see you this fall at CenturyLink Field, the Dawgs' temporary home for the 2012 season.
Ticket information for the six games at CenturyLink Field can be found at gohuskies.com/tickets.
Tailgating will be permitted on game days in CenturyLink parking lots but not in stadium parking garages or other surrounding garages.
Parking is available at the CenturyLink Center Garage and Safeco Field Garage for $30 per vehicle, but there are numerous other parking garages and surface lots in the area.
Public transportation options include Metro bus service and Washington State Ferry, as well as Sound Transit light rail, train and express bus.—Scott Kline
For more information on Husky football, go to gohuskies.com