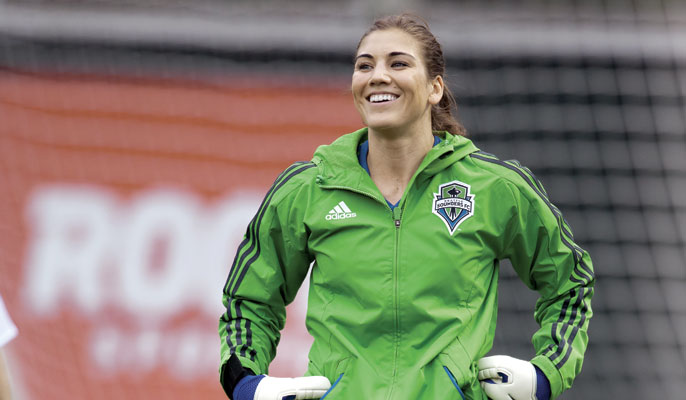 Ron Wurzer
Our Hope
Hope Solo and other UW athletes take their game to the biggest stage in the world
NESTLED ON THE SHORES OF LAKE WASHINGTON, with its iconic cherry trees and breathtaking vistas, sits one of the world's premier research institutions. We know it well. For 150 years, the University of Washington has been a place where ambition and excellence thrive, where faculty, students and alumni succeed at the highest levels.
Few higher than the Olympic Games.
Hope Solo, '04, is an Olympic champion and one of the most recognized names in sports. The star goalkeeper of the U.S. women's soccer team, Solo led the Americans to the gold medal at the 2008 Olympics in Beijing. She was the ninth most Googled female athlete in 2011 and dazzled audiences on the smash TV series Dancing with the Stars.
Solo will be in goal this summer when the U.S. defends its gold medal at the 2012 Olympics, which run from July 27 to Aug. 12 in London. Part of her preparation includes a stint with the Seattle Sounders Women, a role she says has allowed her to give back to the city that launched her stellar career.
"I'm so excited to be here," Solo, Washington's all-time leader in shutouts (18), saves (325), and goals-against average (1.02), told The Seattle Times. "I always knew at the end of the day, I'd end up back here, whether it was when I retire or even before that."
Other Huskies gearing up for the '12 Games include rowers Mary Whipple and Dave Calder, world champion pole vaulter Brad Walker, and former UW volleyball standout Courtney Thompson. Olympic trials for many events are in June and July, and the national teams will be set after that.
Washington's Olympic legacy runs deep, stretching back a century to the 1912 Olympics in Stockholm, Sweden. Sprinter J. Ira Courtney was the first Husky to compete in the Games, winning heats in the 100- and 200-meter races before losing both races in the semifinals. In the 100 years since, the UW has sent more than 120 participants to the Olympics, including 98 Americans, 13 Canadians and athletes from 10 other countries including Nigeria, Mexico and Switzerland. Huskies have won 27 medals—11 gold, 9 silver, 7 bronze—and 11 coaches from the UW have trained individual athletes or teams at the Olympics.
"We take a tremendous amount of pride in the Huskies who have competed in the Olympics," says Washington Athletic Director Scott Woodward. "For many athletes, the Olympics represents the pinnacle of their sport, and the fact that their time here at UW helped prepare them for such a stage is a testament to the quality of our coaches and staff."
Rowing is one of the UW's most celebrated athletic traditions, and more than 60 men's and women's rowers have participated in 14 Olympics. The most famous shell in Husky history gained international acclaim by winning the gold medal in men's eight at Adolph Hitler's 1936 Berlin Olympics.
Just three months before he invaded Poland, Hitler watched from the stands as the UW rowers scored a come-from-behind victory over the favored German and Italian boats. Reflecting on the remarkable title his team won in front of 25,000 screaming German fans, Coach Al Ulbrickson Sr. later said, "The boys won that race on courage. … It was a magnificent performance."
Solo's Olympic tale is equally grand.
Growing up a few miles south of the Hanford nuclear site in rural Richland, Wash., Solo loved sports and chasing snakes along the Columbia River Basin. She never wanted to be a goalkeeper and played forward for her high school team, which she led to the state championship as a senior. Solo's select coach needed her in goal, though, and she blossomed into a three-time All-American who started all 68 games in four years at UW.
Her father, Jeffrey, taught her to play soccer and watched each of her games at the UW. A hardy Bronx native and Vietnam War veteran, Jeffrey Solo lived for a time either on the streets of Seattle or in a tent a short distance from campus. The two were very close, and Solo often visited her father in the woods near the UW, telling USA Today in 2008, "I'd make him macaroni and cheese, and we'd sit in the woods in a tent and talk for hours. He understood life and sports, and that's why he knew me so well."
Jeffrey Solo died of heart failure in 2007, one week before he was scheduled to see his daughter play for the U.S. national team for the first time. A heartbroken Solo dedicated her performance in the FIFA Women's World Cup to him, and she spread his ashes in the goal before each game.
It was an emotional time for the young U.S. keeper, a situation made worse when she was unexpectedly pulled from the starting lineup prior to the World Cup quarterfinal against Brazil. With Solo on the bench despite having logged 300 consecutive minutes without giving up a goal, the Americans lost 4-0. Afterward, Solo publicly criticized her coach, Greg Ryan. She was banished from the U.S. team, criticized by teammates, and Ryan lost his job in the fallout.
"2007 broke my heart," Solo told the New York Daily News. "My confidence was on the floor. Thirty people wouldn't talk to me or even look at me. It was as if I had a contagious disease."
Her father taught her a thing or two about perseverance, and Solo drew strength from his lessons. When new U.S. Coach Pia Sundhage invited her back to the U.S. national team prior to the 2008 Olympics, Solo was stronger than ever, both physically and mentally. Rejuvenated, she led the Americans to the gold medal, stopping the same Brazil team in a dramatic 1-0 overtime victory. Solo made several spectacular saves during the match, including a diving stop in the waning seconds of overtime, to give the U.S. its third Olympic title since 1996. For Solo, whose smile lit up the podium afterward, it was vindication.
"I feel like a free spirit," she told the Daily News in 2011.
In London, Solo is not the only Husky hoping for a repeat performance. Mary Whipple, '02, is likely to return as coxswain of the U.S. women's eight following the gold medal she won in Beijing alongside former UW teammate Anna (Mickleson) Cummins, '02. Whipple also won a silver medal at the 2004 Athens Olympics and is nearing the end of a wonderful career that includes two national titles at UW.
"It's going to be my last Olympics so it's kind of like my senior year," says Whipple, who plans to go into coaching after the London Games. "I'm trying to make every day count, and I want to go out taking each stroke to prove the U.S. women are great at rowing the eight."
Walker (pole vault-U.S.), Calder (rowing-Canada), and Aretha (Hill) Thurmond (discus-U.S.) are seeking return trips to the Olympics, while Thompson (volleyball-U.S.) and Matthew Bryan- Amaning (basketball-Great Britain) are looking to make their Olympic dreams a reality.
Not all of the hopefuls will make it, something swimmer Ariana Kukors knows all too well. The world-record holder in the 200-meter individual medley, Kukors missed the 2008 Beijing Olympics by .08 seconds after a third-place finish at the U.S. trials. She's been training for another shot ever since.
"It was tough to miss it last time, but I'm a stronger swimmer because of it," says Kukors. "The pinnacle of our sport is making the Olympics, and that's how I've prepared the last four years. It would mean so much to me."
This year's Olympians will follow a long line of Husky greats. August "Gus" Pope was the first UW athlete to win an Olympic medal, earning bronze in discus at the 1920 Games in Antwerp, Belgium. Jack Medica was Washington's fi rst Olympic gold medalist in an individual event, winning the 400-meter freestyle at the 1936 Berlin Olympics. Medica also took silver in both the 1,500- meter freestyle and 800-meter freestyle relay, making him the only UW Olympian to win three medals in one year.
Lynn Colella was the first UW woman to win an Olympic medal, taking silver in the 200-meter butterfly at the 1972 Games in Munich. The 1984 women's eight-oared shell, coached by Husky legend Bob Ernst, won the first gold medal in U.S. women's rowing history with a victory in Los Angeles. Hilary Lindh is the only Husky to medal at the Winter Games, taking silver in women's downhill at the 1992 Olympics in Albertville, France.
Washington has a strong Olympic pedigree, and Solo will graciously carry the Huskies' legacy into London. Having already etched her place in UW history, Solo sees the 2012 Olympics as more of an opportunity. She is coming off major shoulder surgery This time around, she's not out to prove any of her doubters wrong. Instead, she's just looking to add one more gold to her storied purple and gold career.
"I truly want to be number one in what I do," says Solo.
—Derek Belt is a Seattle freelance writer.