Architect Steven Holl's Refusal to Play by the Rules Yields Beauty Across the Globe
You wouldn't expect the University of Washington's 2012 Alumnus Summa Laude Dignatus to sound like a rabble rouser, but listen to Steven Holl (B.A., Architecture, '71) practically daring architecture students:
"Don't be obedient," he says. "Break the rules. Don't take the program. It's just a bunch of bananas in a bag. Make architecture. Don't be obedient."
One of America's most celebrated architects, Holl knows something about charting his own path. He once won a fierce competition for an $86 million addition to the Nelson-Atkins Museum of Art in Kansas City by jettisoning the rules, which called for designs on the north face of an existing building. Holl rejected their master plan and presented an entirely different vision. The risky move could've disqualified him; instead, it distinguished him.
The other architects vying for the commission were "obedient," said Holl, who drew courage from an inscription on the old museum: "The soul has greater need of the ideal than the real." His winning addition of five interconnected glass structures, juxtaposing concrete to light, formed previously unimagined new spaces and angles of vision.
The addition opened to wide acclaim. "Breathtaking," gushed an architecture critic from The New York Times. "As striking and innovative a piece of architectural form as anything by Gehry, Herzog & de Meuron or Jean Nouvel," enthused The New Yorker.
Holl's consistent and calculated rage against the mundane has catapulted him to international rock star status within his profession. He has put his stamp on 50 important buildings across the globe. Last December, the American Institute of Architects awarded him with their highest honor, the 2012 AIA Gold Medal.
Critics marvel over his museum, gallery, civic, academic, residential and multi-use masterpieces. They rave about his ability to blend light and space with extraordinary sensitivity, as well as his talent integrating new projects into historic contexts.
His notable works include the Linked Hybrid mixed-use complex in Beijing (2009), the Kiasma Museum of Contemporary Art in Helsinki (1998), the Sarphatistraat Offices in Amsterdam (2000), the Massachusetts Institute of Technology's Simmons Hall (2002), the Vanke Center in Shenzhen, China (2009), and the Chapel of St. Ignatius in Seattle (1997).
"He takes great risk but his work is always loyal to the integrity of materials," says Daniel Friedman, dean of the UW College of Built Environments, who nominated him for the prestigious AIA award. "He has never compromised his poetic vision—never. He is one of few people in our business who has never compromised in his poetic integrity as a designer—never. He's never done a colonial house to keep the payroll going."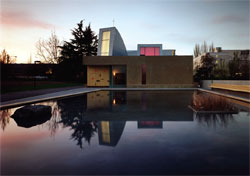 Freidman fully expects the UW alumni to also win the Pritzker Architecture Prize, considered by many to be the highest honor awarded to living architects.
Far from resting, Holl's practice thrives. He continues to win prestigious competitions and is currently in the construction phase of several projects: the Campbell Sports Center at Columbia University; the Glasgow School of Art; the Beirut Marina & Town Quay; the Nanjing Sifang Art Museum in China; the 'Sliced Porosity Block' in Chengdu, China; and the Daeyang Gallery and House in Seoul. Earlier this year, Steven Holl Architects was chosen to design an addition to the Houston Museum of Fine Arts.
Seattle architect Tom Kundig (B.A., Environmental Design, '77; M.A., Architecture, '81), principal at Olson Kundig Architects noted Holl's "complete and total commitment" to architecture. "He has dedicated his life to that pursuit and has done it against unbelievably difficult odds, and not just one or two important works, but a lifetime of important works, both built and written."
"He is a protagonist, a thinker," Kundig adds. "His work follows his words beautifully — which means he walks the talk and he does it thoughtfully, with all its meaning."
Rick Sundberg (B.A., Architecture, '66), principal at Sundberg Kennedy Ly-Au Young and president of the Seattle chapter of AIA, has known Holl since working with him in the late 1990s on Seattle University's St. Ignatius Chapel. "What I've always admired about Steven is he is willing to take risks and he somehow gets his clients to go along with it. He challenges things a huge amount. He takes profoundly different points of view about what a building might be."
Holl established Steven Holl Architects in New York City in 1976. The 40-person firm has another office in Beijing, which allows his team (he calls them an orchestra of enormously creative minds) to work "around the clock," Holl said. New York, however, remains Holl's home base. Holl is a tenured professor of architecture at Columbia University, where he has taught since 1981.
Poetry, art, experimental composers and abstract music also bind him to the city. "That's why I live in New York," he said, "for all the cultural dimensions. It has a bearing on architecture. It is important to experience all the arts: literature, painting, and sculpture."
The roots of Holl's genius, however, were first planted in his childhood backyard in Bremerton, Wash., where Holl and his brother, now a sculptor, constructed a three-story treehouse and an underground clubhouse. Holl's father, 93 and still living in Kitsap County, owned a business installing heating systems in buildings. Holl remembers long hours in his father's shop laying out complex duct work and tinkering with building infrastructure geometry.
Holl often credits UW professors of architecture, art and philosophy for influencing his work too. He calls Professor Hermann Pundt's lectures "amazing." "He was very passionate. All the students loved his talks." A pivotal moment in Holl's college career occurred during his sophomore year, when UW Professor Astra Zarina encouraged him to apply to an architectural program at the University of Washington Rome Center.
Ed Weinstein (B.A., Architecture, '71), founder of Weinstein AU, was a classmate of Holl's and his roommate during at the Rome Center.
"He is extremely focused and hardworking, inquisitive, driven and passionate," Weinstein said. "Everything he does is about risks. With his notoriety, it is easier to take risks, but risk-taking is a significant aspect of his work. Beyond his innate talent is an incredible almost relentless focus and passion for making architecture."
Today, Holl is a prodigious watercolor artist, starting his mornings with watercolors and green tea. In fact, his buildings begin as 5×7 watercolor drawings. In his lower Manhattan workspace, he has 10,000 chronologically ordered watercolor paintings. This year he published a book of watercolors called Scale. Watercolor, he says, readily lends itself to the poetic properties of light.
For Holl, his watercolors are "not a hobby but a secret weapon, especially in the digital age." He carries his 5×7 notebooks and he draws wherever he travels; he scans an image into his mobile phone, zips it back to his global team.
Asked if his buildings turn out better than he expects, Holl says: "Yes, they're better than imagined because they're real. You can't go inside paper models and get the perspective of light and how it changes every day."
The quality of light in the Pacific Northwest—the low angles of the winter sun in its northern latitudes—frequently pull Holl back to the renowned oyster skies that served as some of his earliest influences.
"It's home," he says, "still home."