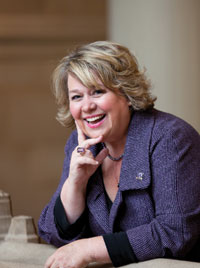 Photo by LaVie Photography
REMEMBER THE EXCITEMENT YOU FELT WHEN when you graduated from the UW? It was the thrill of a major achievement and of realizing that your degree would lead you to the next steps in your life. The Class of 2012 is beginning to experience that joy right now and we at the UWAA hold high hopes for them.
Of all the ways our university influences the future, none are more important than educating the next generation of thinkers, doers and leaders. Our students graduate with an understanding of their responsibilities as members of an increasingly interconnected and global society.
Graduates, we welcome you into the Husky fold! This is a time to celebrate and to embrace your new role as alumni and supporters of our great University. The drive that enabled you to navigate this huge, world-class university is the same spirit we want you to develop in your new life.
A graduate student asked me recently: "What have you done to change the world?" I told him that I started as an educator, then worked for more a decade in aerospace as an industrial engineer on major missile programs. Both fields offer the opportunity to make a difference in this world, so always be prepared; you never know where one path may lead you.
Meanwhile, the UWAA continues to move forward in exciting new directions. We increased our communications and put on special member events; expanded to more geographic areas and increased collaboration with UW schools and programs. And UW Impact—in partnership with The Seattle Times Greater Good campaign–championed higher education in our state, contributing in no small measure to the first no-cut budget in four years.
The result of all our work? UWAA membership numbers are up, even in times when fewer people are joining organizations. Our 150th UW Anniversary Alumni Directory highlights the enormous participation of our alumni (100,000 of you chose to participate) of any directory in the country. At the first HuskyFest, our spirited Alumni Appreciation Celebration on Red Square drew a huge crowd and provided us an opportunity to thank you and all of our members for the work we do at the alumni association.
As I conclude my year as president, I want to thank the Husky alumni community for your great support this year.