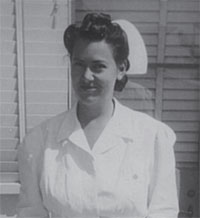 Jeanne Quint Benoliel, a longtime member of the UW School of Nursing faculty who was named a "living legend" by the American Academy of Nursing, died Jan. 23. She was 92.
Benoliel spent more than 20 years on the UW faculty and was the school's first Elizabeth Sterling Soule Professor in Nursing.
A prolific researcher, writer and teacher, she was one of the founders of the field of palliative and hospice care. She was also the first registered nurse to be president of the International Work Group on Death, Dying and Bereavement.
Donations may be made to the Jeanne Q. Benoliel Endowed Fellowship Fund, which provides financial aid to UW School of Nursing doctoral students who are researching the impact of life-threatening illness or end-of-life transitions. Donate online at: http:// www.washington.edu/giving/browse-funds by searching under "Nursing" for the Jeanne Q. Benoliel Endowed Fellowship Fund. Or, checks may be sent to UW School of Nursing Advancement, Box 357260, Seattle, WA 98195. Make checks payable to "UW School of Nursing," noting the Jeanne Benoliel Fellowship Fund.—Julie Garner