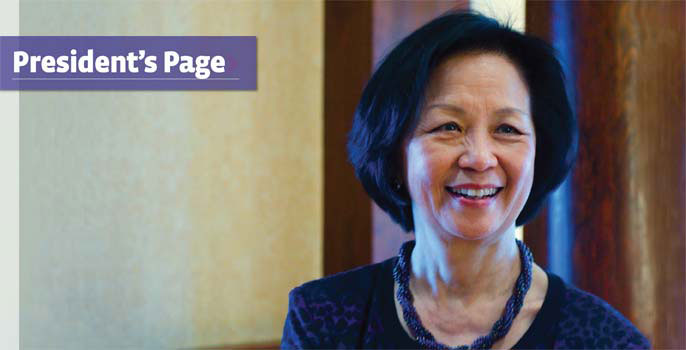 A commitment that never wavers
When Michael Young takes office next month as our next President, he will find ample evidence of what has made the University of Washington what it is today and what it can become. He will find students engaged in learning and discovery, trailblazing research in a broad spectrum of fields, a deep history of partnerships and collaboration with local and global communities, fertile ground for innovation, and a culture that values diversity, responsibility, service and integrity. He will also find plenty of challenges.
Like many public higher education institutions across the nation, we are contending with a host of issues: from rapidly evolving demographic and social trends to ubiquitous technological advances, globalization and changes in how students learn. Plus, the one I am going to focus on—the steady erosion of state support. Simply put, we need a new model for funding public higher education.
Despite another round of deep state funding cuts in the next biennium, the beginnings of such a new model may be taking shape. Just last month, the state, in a landmark piece of bipartisan legislation, granted the UW and all four-year institutions the ability to set tuition rates for resident undergraduates for the next several years. While this authority is not a replacement for state support, it is a critical tool that will help us better weather the current economic storms.
We greatly appreciate this expression of confidence by the Legislature to entrust to our Board of Regents the authority to establish tuition rates for all of our students. It is a responsibility I assure you will not be taken lightly.
We understand the financial pressures that higher tuition places upon students and their families. We also recognize we must provide increased financial aid for low- and middle-income families who cannot afford to pay as much tuition.
At the same time, we must enable our faculty to offer the kind of learning experience all UW students expect and deserve. It will take careful planning, consultation and a fine balancing of interests, but I'm confident we will produce a reasonable and fair plan to keep this University strong.
While we are in difficult times, people throughout our campus communities have not wavered in their commitment to sustain the quality of our learning, discovery and engagement programs. Their dedication has been inspiring and heartening, made all the more so by the tireless commitment shown by the greater community. People across the state—including business leaders and you, our UW alumni, through such initiatives as UW Impact—have banded together to advocate more effectively than ever before for higher education. This strong current of support was utterly essential in helping us to gain tuition-setting flexibility as we work toward an improved economy and brighter days.
While the challenges we face at the UW are not unique, our capacity to respond to them is. Our size, scale and market forces will enable us to develop creative solutions to meet the needs of our state. In doing so, we can be a model for other public research universities across the nation. I think Michael Young is a wonderful choice to lead the UW as we do this. With his extensive experience in academia and public service, he understands our challenges and the need for change. At the same time, he knows how important it is to cherish the things that have made the UW such a unique and special place.
It has been a tremendous honor to serve as president of this remarkable University for this interim period. Everywhere I have gone, I have come away feeling impressed by the enormous extent of the UW's reach and its profound impact. It's due to the efforts of many people—our faculty, students, staff, retirees and, of course, our wonderful alumni. I'm so proud to be part of the Husky family.


Phyllis M. Wise, Interim President