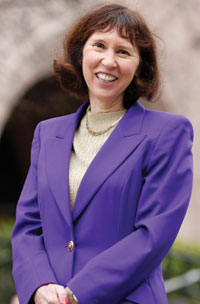 Photo by Anil Kapali
Trish Bostrom, '72, knew how to make a big impression as a student-athlete at the University of Washington in the pre-Title IX days. She challenged the UW because she wanted to play on the men's tennis team. And she won.
Today, the former tennis pro turned Seattle attorney still makes a big impact as one of the most dedicated volunteers for the UW Alumni Association.
Bostrom spent a decade on the UWAA Board of Trustees and was president in 2000. For the past 11 years, she has been one of the most beloved and hard-working hosts for trips offered by UW Alumni Tours.
And that's on top of myriad volunteer roles she has held throughout the University.
"Volunteering for the alumni association gave me a great appreciation for how important the UW is for Seattle, the state of Washington, and even the nation," says the energetic Bostrom. "You really get to understand how critical the UW is. Besides, it is really fun."
To honor her work, the UW Alumni Association is pleased to recognize Bostrom as the recipient of the Distinguished Service Award, the highest honor bestowed upon UWAA volunteers and members.
—Jon Marmor