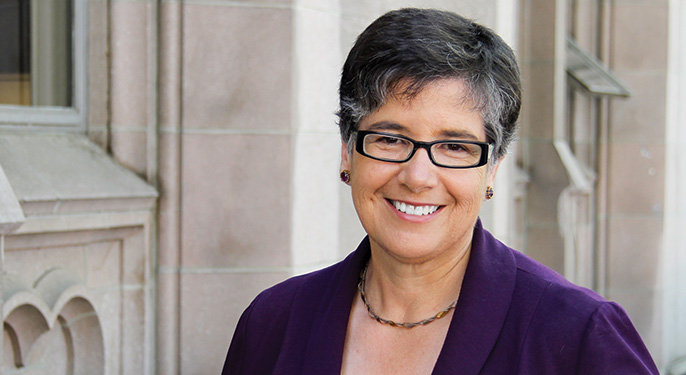 Turning Wonder into Discovery
Dear alumni and friends,
Like many of you, my life changed forever when I stood in Red Square and caught my first glimpse of Mount Rainier. The majesty of the mountain, the beauty and history of our campus, the boundless energy of UW students—it was as if a world of possibilities was opening up to me.
I am humbled and honored to be the 33rd president of the University of Washington. That sense of wonder and excitement I first experienced looking out Rainier Vista has continued to inspire me for nearly 30 years. Together, our faculty, staff, students, alumni and friends have made the UW one of the world's great public universities.
My role is to ensure our strong momentum continues and that it deepens in critical areas. We must make sure that every student has a transformative experience at the UW and that we remain deeply committed to both access and excellence—the critical ingredients of our public mission. And we must ensure that our faculty have every opportunity to develop the innovations and ideas the world needs—to truly push the boundaries of what's possible.
One of my favorite places to walk the beaches of the Pacific Northwest is San Juan Island, where the UW College of the Environment operates a field station, Friday Harbor Labs. Last summer, I attended a lecture on the island by Susan Middleton, an award-winning photographer whose work was displayed at the local museum. For years she has spent parts of her summer at Friday Harbor Labs, where our students and scientists introduced her to the countless small invertebrate creatures in our oceans.
Most of these creatures are tiny and not much to look at upon first glance. Yet I learned they are the origins—the bedrock of life on our planet. In Middleton's exhibition, "Spineless," large, majestic portraits give these tiny beings the dignity and status they truly deserve.
Armed with new knowledge and appreciation, my contemplative beach walks and tide-pooling on San Juan Island now consist of a whole new wonderland. I no longer focus on just the warmth of the water, the boats or even the whales that might be on the horizon. Instead I look down at the amazing biodiversity below me, at life forms I'd been oblivious to. This new knowledge breaks down the boundary between art and science and presents the ocean's beauty in a whole new way for me.
I'll never forget the look of delight and wonder on the face of my 17-month-old grand niece when she joined me for one of these walks and watched a tiny sand crab swim right between her legs as she crouched in the shallow water. It was the same look I see on the faces of our scientists and students when they turn wonder into discovery—and then apply it to real-world problems. At Friday Harbor Labs, they are using what they learn from these tiny creatures to engineer things such as prosthetics that are life-changing.
That's who we are at the UW.
We nurture wonder. That wonder becomes curiosity, which leads to our discoveries. And that in turn becomes the innovations that change our world. That wonder is literally life-saving—for our bodies and for our souls.
Thank you for your trust and support as I begin my appointment as president. But more important, thank you for your support of our world-changing university.


Ana Mari Cauce, President