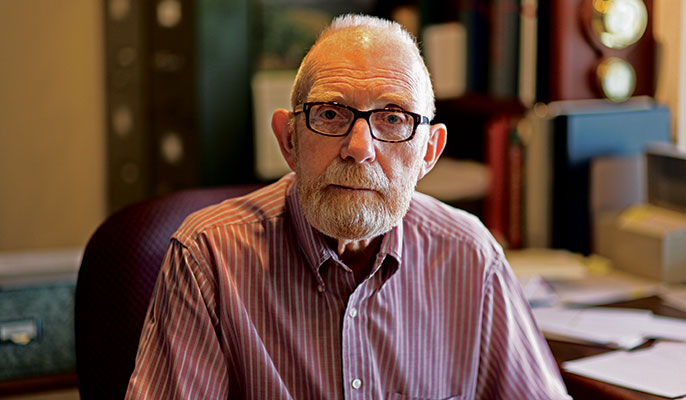 Anil Kapahi
Montana Mindscape
Ivan Doig's tales of the West have made him one of America's top authors
WRITER IVAN DOIG describes himself as "a history Ph.D. with a mind like a magpie." It is worth keeping in mind when considering Doig's twelve works of fiction and two memoirs that the black-billed magpie is found in nearly every county in Montana and that the bird is said by some to represent that part of ourselves that collects "bright shiny thoughts"; they also have one of the most developed vocabularies in the animal world.
As a novelist and memoirist, Doig's "bright shiny thoughts" form a body of work that renders the Montana of days gone by, rooted in historical fact and parlayed with thoughtful intellect into stories that are as informative as they are pleasurable to read. His latest book, Sweet Thunder, is a case in point. The book follows a newspaperman who writes blazing editorials for a paper that competes with one published by the Anaconda Copper Company that really did hold Butte in its corporate vise in the 1920s. (BP now owns the company, which stopped mining in 1983.) The story is a good source of information about this company town, but the plot loses nothing to the history. Sweet Thunder is a pleasure to read, but it cannot be done without taking time to savor the underlying music of the prose.
Doig, '69, was born in 1939 in White Sulphur Springs, Mont., but grew to manhood farther north along the Rocky Mountain Front, where the eastern slope of the Rockies meets the plains. Having lived and worked on ranches until he left for Northwestern University in Evanston, Ill., Doig writes what he knows and the Montana he knows is in his blood. Many of the writers now living and publishing in Montana moved there from somewhere else. Tom McGuane, for example, was born in Michigan; Tim Cahill is from Nashville and William Kittredge is a native Oregonian. By contrast, Doig herded sheep on the Blackfeet Reservation in Montana as a teenager.
"What's singular about him is that he grew up on a ranch and he's very well educated. The history doctorate you can see in a lot of his books. He is also singular because he has the poetic gift for language. He's got this poetry; maybe you call it love, which comes through his writing. His book English Creek is a masterpiece," says Nick O'Connell, '85, '96, author of On Sacred Ground: The Spirit of Place in Pacific Northwest Literature.
While he writes about Montana, Doig lives in a typical evergreen Seattle suburb and has done so since he received his doctorate in history from the UW. He and his wife Carol had been living in the Chicago area. He was an editor for Rotarian magazine and she worked for a similar magazine put out by the Methodist publishing house. "We had been in Evanston seven or eight years with college and all, got married there and we found ourselves driving 800 miles round trip on the weekends to see little fir trees in Wisconsin," he recalls. Doig applied to the history programs at University of California, Santa Barbara and the UW. "The UW came through with a teaching assistantship worth $1,900 a year. We had never been to Seattle but we accepted sight unseen. We thought 'what the hell, we're going to do this.'"
At the UW, Doig landed under the wing of the western American historian Vernon Carstensen. "It was a good thing. He was a colorful talker, loved the language. He would mention 'the unfeathered biped on the way across the continent,' the human being. I stole something from him as recently as the latest book—the word 'frass,' meaning insect excrement," says Doig. He wrote his dissertation on John J. McGilvra, a prominent judge in 19th-century Seattle who also happened to be the father-in-law of Thomas Burke, for whom the UW's Burke Museum is named.
After earning his degree, Indiana University in Bloomington offered him a teaching position, "the best new journalism job in the country that year, the big tuna. The salary was good. I would have had research money. I turned it down to be a freelance writer. I was a flat-footed, fact-driven journalist and it took me awhile to realize I could make things up and write novels," he says. In fact, his first book, This House of Sky: Landscapes of a Western Mind, was a finalist for the National Book Award in the nonfiction category called Contemporary Thought. A memoir based on life with his father and grandmother, it has sold more than a quarter million copies.
With two other exceptions his books have been fiction, based on historical research. Much of that research has been done at the UW Libraries. "Absolutely, the UW Libraries have played a part in every book I have ever written. The UW has been the heart of the great blood system of material for me. The Special Collections stacks were open to someone like me in the old days. A real coup was nosing through those shelves to find out-of-copyright art, largely northwest coastal scenes, to illustrate chapter headings of The Sea Runners," he says.
If Doig loves the UW Libraries, especially Special Collections, the sentiment is returned. Betsy Wilson, vice provost for digital initiatives and dean of University Libraries, is a fan. "Not only does Ivan give voice to people and places long forgotten in his books, but he has become an eloquent advocate for the critical role the libraries play in preserving our collective memory so that new stories continue to come to life," she says. Doig has been the keynote speaker at two fundraising events for UW Libraries. He even penned a piece for the UW Libraries newsletter, Library Directions. In it he recounts that when he was writing This House of Sky, he wanted to know the names of some of the nine saloons in White Sulphur Springs, Mont., in the late 1940s where the hired haying crews would go to drink. "My memory had come up short on a couple of the names of the saloons. Bob (Bob Monroe, Special Collections librarian from 1958 to 1980) led me down to his stacks, into the bibliophile equivalent of a wizard's cellar and handed me the 1948 phone book for the town," says Doig.
The Doigs' home in the Innis Arden neighborhood is a perfect place to read and write. The neighborhood is replete with greenbelt reserves, Richmond Beach Park nearby, an intellectually nourishing setting for both Doigs. Their home was built in the Eisenhower years but was renovated about 20 years ago. The house is akin to Doig's writing in that everything in it was chosen with care to be pleasing or functional. The living room with its maple floors, Northwest art and stunning view of the Sound is light and peaceful. The house is quiet. Doig and his wife each have studies downstairs. Doig's desk is organized. There are note cards on it that he uses to jot down ideas for the next day's work. There are six volumes of the Dictionary of American Regional English. "It tells you where they call them flapjacks, hot cakes, or pancakes," he notes, adding with pleasure, "I'm in it 67 times."
Behind his desk, he keeps small notebooks full of words and turns of phrase that he particularly likes. A quick look through one turned up the word "haunch," in his neat handwriting. Asked if he and Carol have any "haunts," places in Seattle where they like to go, Doig hollers to his wife, "Carol, do we have any haunts?" From her study, she says that they don't. Then Doig points to his desk. "This is my haunt," he says. Doig writes for four hours every morning. In the afternoons, he rewrites and organizes file cards for the next day's work. "There isn't much lollygagging. They left the lollygagging part out of me in the assemblage," he says.
Poet Linda Bierds, '69, '71, UW professor of English, has been a friend of his for 25 years. "Ivan probably has the greatest work ethic of any writer I've known," she says, "but he can have fun."
Some of the fun occurs in his front yard, where Doig can garden and bird-watch. But for Doig the best fun may be digging around in library archives and then bringing history to light through the stories his imagination kindles while his readers wait patiently for the next Ivan Doig to hit the bookstores. Doig said in his UW Libraries newsletter article "every book is a rare book." That's certainly true of his books. No one else quite captures the West of the past with such studied elegance, the West of Ivan Doig.
—Julie Garner is a Columns staff writer.