The Center for Commercialization (C4C) New Ventures Facility at UW has been named in a ranking of the top university business incubators in the world by the 2013 University Business Incubators Global Index led by a group in Stockholm, Sweden. The facility's programs were among the top 10 globally and the top five nationally in several categories.
Mohamed Ali, '08, a Somali refugee with a master's degree from the School of Public Health, was recognized as a Champion of Change by the White House for his actions that saved lives last year during a winter storm.
The UW's College Assistant Migrant Program (CAMP) was ranked No. 1 nationally for scoring 100 percent on a pair of federal performance measures. The program, administered through the Office of Minority Affairs and Diversity, supports students from migrant and seasonal farmworking families to persist through their first year of college and on toward graduation. The Department of Education announced the award.
Caryn G. Mathes, general manager of WAMU, the premier National Public Radio affiliate in the Washington/Baltimore area, has been named general manager of KUOW. She has a bachelor's degree in professional journalism from Indiana State University.
Women's golf coach Mary Lou Mulfur will be inducted into the Women's Golf Coaches Association Hall of Fame in December. Now in her 31st season as head coach, she has led UW to 20 consecutive NCAA regional appearances and nine trips to the NCAA championships.
Three faculty members have been elected into the Institute of Medicine, one of the most prestigious honors in health and medicine. They are Janis L. Abkowitz, '82, '83, Frederick Appelbaum, and Bruce M. Psaty, '86.
The University District Farmers' Market celebrated its 20th anniversary in 2013. The market, founded and run by Chris Curtis, '73, also moved to a new location on the "Ave."
NWBioTrust, a collaboration of the Fred Hutchinson Cancer Research Center, the UW and Seattle Children's, has opened its doors. The entity provides donated biospecimens from consenting patients to researchers working to improve prevention, diagnosis and treatment of human disease.
Three UW alumni received Boeing's top invention award: Kevin R. Davis, '91, Dennis Lewis, '04, and Shuguang Song, '98, '01.
The Scholarship Committee of Seattle's Woman's Century Club presented senior Christine Ito with a $2,000 scholarship recognizing academic excellence and community service. She was also crowned "Japanese Queen of Washington" in May.
Gary Bratlin, former Husky Marching Band graduate assistant from 2008 to 2011, has been selected to be assistant director of bands and assistant professor of tuba and euphonium at the University of Central Missouri. He earned the doctor of musical arts in conducting at the UW last year.
John E. Schaufelberger is the new dean of the College of Built Environments. He has been at the UW since 1994.
The UW Bothell is Washington's fastest growing college campus. The campus has 4,500 students.
J. Patrick Nobel, UW Marguerite Corbally Professor of Public Service, was appointed to the inaugural Seattle Port Commission's Ethics board. Also appointed was Gerry Alexander, '58, '64, former chief justice of the Washington Supreme Court.
New Lander Hall will open its doors in January 2014 featuring spacious rooms with configurable furniture, plenty of windows, pedestrian-friendly walkways and Local Point, a new restaurant. Amenities include in-room bathrooms, WI-FI and Ethernet Ports.
Uri Shumlak, professor of aeronautics and astronautics, has been named vice president and president- elect of the University Fusion Association. The organization advises the Department of Energy.
The UW was tied for 16th place among public universities for its undergraduate program in the most recent edition of America's Best Colleges released by U.S. News & World Report. The UW was also ranked 13th nationally by Washington Monthly and 16th among 500 universities around the world by Shanghai Jiao Tong University for its academic and research performance. Washington Monthly also ranked UW ninth among national universities in "Best Bang for the Buck."
Dr. Sherwin R. Shinn, '74, has been awarded the American Dental Association's 2013 ADA Humanitarian Award. Shinn has provided dental treatment in more than 40 countries as co-founder of both International Smile Power and For World Wide Smiles. Locally, he works with Lindquist Dental Clinic for Children, a nonprofit that treats children from low-income families.
Dobie's Due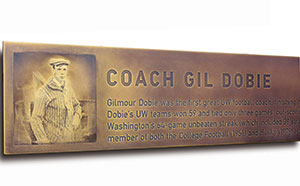 Anil Kapahi photo
Ninety-seven years after he coached his last football game at the UW,
Gil Dobie
was finally honored with a plaque at Husky Stadium. Dobie, who died in 1948, went 58-0-3 during his nine years as Husky coach from 1908 to 1916. The plaque, which was unveiled in October on the Neal Dempsey Coaches Walk of Honor, was the result of years of work of a committee led by Lynn Borland, '66, a Los Angeles businessman who published a biography of the late Husky coach. Three generations of family members representing Huskies who played for Dobie were in attendance. Says Borland: "The [Dobie] family felt such recognition was long overdue and are now thankful that it's finally a reality."—
Jon Marmor
Kelly's Cause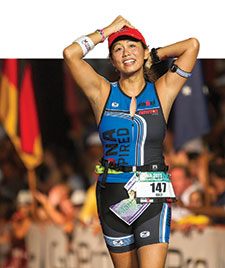 Marco Garcia/AP Worldwide
Nothing like a few jellyfish stings, a bike crash, powerful head winds or running 13 miles in the dark was going to keep Kelly Miyahara, '00, from the finish line at the Ironman World Championships in Kona in October. Miyahara, who works on the TV show
Jeopardy
, was competing to honor a friend, Marisela Echeverria, who was killed in a bicycling accident last year while training for the same event. Adorned with temporary tattoos of her friend's name on her wrist and calf, Miyahara finished in 14 hours 3 minutes and 33 seconds, all the while raising $31,000 for the Leukemia & Lymphoma Society. "It was an incredible day," Miyaraha recalls. "It was a huge honor to honor my friend and make her proud."—
Jon Marmor