Turning your university inside out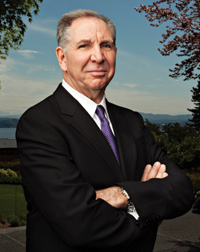 SIMONE SCHAFFER'S ROOM
in Elm Hall (one of our brand new residence halls in the West Campus) is probably not one of the first places you would think of as being on the front lines of a large-scale, interdisciplinary research collaboration. But it is. Simone, a senior majoring in Computer Science and Applied and Computational Math Sciences, is among a number of people, many of them her fellow students, who are using smart devices to measure their energy consumption on campus as part of the Pacific Northwest Smart Grid Demonstration Project. The data they collect will help answer important questions about how to make our power system more reliable, how to best manage the ups and downs of renewable energy sources such as wind and solar power, and how to conserve energy through technology and behavioral changes. In short, it will help make our regional power grid "smarter."
This type of engagement with the community is not new—it has been woven into the fabric of the UW for many years, and we continue to see it today. We see it in the faculty, students, and staff in our College of Education who go out nearly every school day to more than a hundred high need public schools in more than 20 school districts around the state to help address critical learning gaps. We see it in our School of Medicine's enduring 41-year partnership with five states in the Northwest to provide highquality medical education and meet physician workforce needs in rural and underserved areas. Our University's commitment to our public-service mission clearly is unwavering. And given the immense challenges faced by our region and our planet, the need to turn the UW "inside out"—taking ideas and innovations out of our labs, our classrooms, our libraries, our offices, and, yes, even our residence halls, and bringing them to the broader community, whether that community is across the street or across the globe—has never been more important.
These large-scale challenges—like health care, sustainability, K-12 education and social justice—are becoming more and more complex and demand new ways of thinking, new ideas, new discovery. Solutions require more sophisticated, interdisciplinary, and integrative research and teaching. Fortunately, that's what we do at the UW.
Turning the UW inside out is part of a larger initiative called Tomorrow's University Today that we launched this fall. The purpose of this initiative—the vision for which is informed by the entire University community— is to build on our past successes so that we can ensure an even more successful future for our University, our local communities, our state, our nation and our world.
At the same time, building on that past success requires a renewed commitment to restore public investment back into our public higher education institutions, which is the theme of the insert Washington residents will find in this issue of Columns. The UW has provided access to excellence and opportunity for generations of Washingtonians, thanks to public support for higher education. But the steep and unprecedented cuts in state funding over the past few years have fundamentally changed the trajectory of that support, resulting in a significant burden placed on our students and their families. Now, we must work together to reprioritize the accessibility and affordability of public higher education so that for all of the students heading our way, and for the betterment of lives of all the people of our state, we can be Tomorrow's University Today.