Letters
Payload Payoff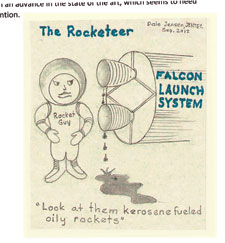 I read the brief story about a team of Aeronautics & Astronautics students winning a competition on how to conduct mining on the Moon (
of Note, September
). I'm sure they deserve credit, but they could have done something in rocket-engine technology to put greater payloads into orbit at lesser cost. This would have been an advance in the state of the art, which seems to need attention.
Dale Lawrence Jensen, P.E.
B.S., AERONAUTICS & ASTRONAUTICS, '56
EXECUTIVE ENGINEER, JENTEC
LAWNDALE, CALIF.
Hero of Invention
I was very interested in the June story by Julie Garner on Professor Bob Charlson's suggestion that the UW have a "Patent Gallery" to highlight the inventions that have come out of the UW. I was a student in the Air and Water Resources Division of Civil Engineering in the late 1960s and worked for the UW in the field for most of the '70s.
Professor Charlson was our hero. He was measuring particulates in the upper atmosphere and finding out what impact they had on our life on Earth. His work led to much of the understanding we now have on global warming.
At the same time, Professor Mike Pilat, my mentor, was measuring particulates coming out of industrial stacks with his patented particle-sizing device, the UW Cascade Impactor. With simultaneous sampling before and after an emissioncontrol device, we were able to help industries design cost-effective equipment to meet emission standards.
We were also developing a fine particulate control device, the Wet Electrostatic Spray Scrubber, which would have taken the small particulates out of emissions that plague the coal-fired power plants. Then President Reagan pulled the funding.
These, and other inventions associated with the UW, need to be showcased by the University to excite other students and faculty to take big steps and to honor those who did in the past.
Arn Thoreen
SEDRO WOOLLEY
Defeating Disease
I was interested in your reference to Dr. Bill Foege, who was presented the Presidential Medal of Freedom for his work eradicating smallpox (Face Time, September).
Dr. Foege is not the only UW alumnus involved in the global eradication effort. My sister, Judith Johnson-Sandberg, '73, traveled the mountains of Afghanistan by Russian jeep, horse, and donkey, but mostly on foot, giving smallpox inoculations.
After two years at the UW, Judy joined the Peace Corps. Afghanistan was thought to be among the toughest places to eliminate the disease because women could not bare their skin to a man, nor could Afghan women travel beyond their home. As a solution, 24 young American women, 16 of whom finished their assignment, fanned out across the mountains and desert inoculating the Afghans against the disease.
One wonders whether those 24 young women or the thousands of soldiers and billions of dollars spent in destruction did more to secure our peace and safety.
Millard Johnson
VIA COLUMNS ONLINE
A New Angle
Congratulations to Anita V. Crofts, Ilona Idlis, Alicia Halberg, Will Mari, Thor Tolo, and Almeera Anwar for their insights in capturing the street-level personal views of real people (politicians; nay all of us) rather than simply reporting the prepared performances of real people turned actors before audiences whom they wish to influence (Tales from the Road, September).
Soundbites sell advertising. Humanistic reporting does not. Which may be why the plausible fictions of literature may be more widely read and revealing of the truth of humanity than the supposed nonfictional objectivity of the world's mainstream press.
Ron Scherer
VIA COLUMNS ONLINE
Leslianne's Legacy
Shortly after Leslianne Shedd's death (Keeping Secrets, September), we asked the Puyallup School Board to name a new high school after Lesli, a Puyallup High School graduate and a hero from what we knew about her actions before and during the plane crash. Perhaps if they had known at that time what a hero she really was and the ultimate sacrifice she made for her country, they would have agreed.
Bob and Blanche Lauver
VIA COLUMNS ONLINE
What a privilege it has been to know the Shedd family and watch them as they handled this tragedy with such grace and dignity. I strongly recommend donating to the Internship Fund named in Leslianne's honor.
Kari Costanza
VIA COLUMNS ONLINE
Gifts of the Crow
I loved every page and illustration of this book filled with caring attention (A Passion for Nature, September). It changed how I think, how I understand corvids—and what that means for who we think we are, how we live with our fine feathered fellow beings! With thoughtprovoking and accessible science and hilarious eyewitness stories, Gifts of the Crow is a gift. Run out (too bad you can't fly) and get it right now.
Kim Johnson-Bogart VIA COLUMNS ONLINE
Ancient Mariners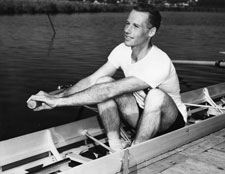 James O. Sneedon/UW Libraries Special Collection Negative No. UW33423
I'm sure you have received many calls and emails advising that the circled oarsman in the September 2012 Columns on page 50 is not Alvin Ulbrickson Jr. (above, shown in 1951) but is actually Carl Lovsted with Al Ulbrickson Jr. being the one next to Carl.
In the rowing terminology, we would probably call this a "proofreading crab." However, not to worry, as oarsmen recover very quickly from such an event as this. It might be a thought, however, to mention the other teammates as well. Those being shown in your photo are Carl Lovsted, Ulbrickson, Dick Wahlstrom, Fil Leanderson and Al Rossi, the cox (not shown).
Rowing is such a wonderful sport, and one in which many ex-oarsmen who competed years ago are continuing to enjoy. In particular, Dick Wahlstrom rowed for quite a few years with one of the many local groups called the Ancient Mariners, which incidentally, might make another story for Columns.
Guy M. Harper
B.A., BUSINESS ADMINISTRATION, '54
UW STROKE, 1951-54
MEMBER OF ANCIENT MARINERS
BURIEN
We want to hear from you. Post your comments at the bottom of any article or in the box below. You may also email your comments to columns@uw.edu.