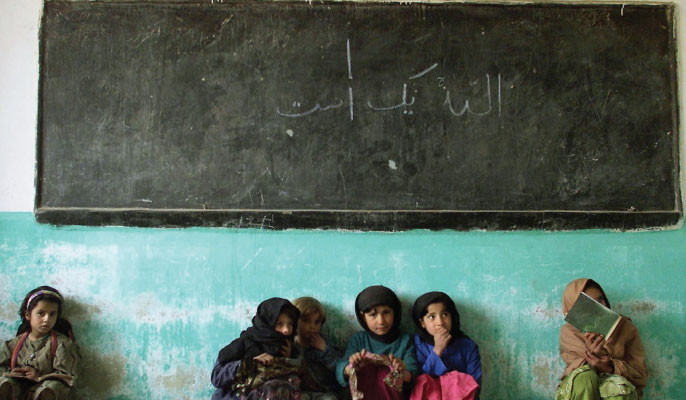 Building a Way Out
A UNIQUE PARTNERSHIP WILL BRING A SCHOOL—AND DESIGNS FOR A HOPEFUL FUTURE—TO GIRLS IN AFGHANISTAN
A dedicated advocate for women and girls, philanthropist Janet Wright Ketcham, '53, invests in empowering young girls. Her foundation, governed entirely by women, builds schools for girls in Afghanistan. This fall, the University of Washington's College of Built Environments joins her noble task.
Ketcham's school-construction partnership stands apart. It draws on expertise from the UW architecture program, a major Seattle architectural firm, a global education charity and an award-winning Afghan architect. If all goes as expected, a new school for 4,000 girls will open in Mazar i Sharif in Northern Afghanistan in 2014.
Upbeat and well-dressed, Ketcham commands attention. She radiates intelligence and grit. Despite the tall risks of operating in Afghanistan, she seems undaunted by the cultural divide, great distance, ongoing terrorism, corruption and harsh climate. She knows Afghanistan's fragile new government could implode but that doesn't reduce her audacity and pluck. The Taliban could retake the country and prevent girls from going to school again. It would still be worthwhile, Ketcham insists, even if that happened.
"I would know because of our effort probably 6,000 girls could read and write," Ketcham says. "What a difference that will make. Those girls are not going to marry at fifteen. They are going to have some means of getting work, and they are not going back."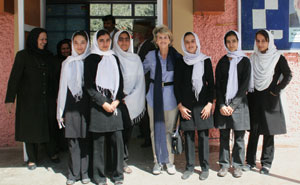 Janet Ketchum (center) visits a village school as part of her mission to educate girls in Afghanistan.
In the developing world, one extra year of primary school changes lives. It swells girls' eventual earning power by 10 to 20 percent. It encourages girls to marry later and produce fewer children. Ultimately, it provides women leaders for the country.
Such data points comfort Ketcham, who is donating $700,000 to put up the school. It will serve an ancient multiethnic, multilingual city near the border of Uzbekistan. Mazar i Sharif, which means 'noble shrine', is the capital of the Balkh province. World travelers frequent the city's famous shrines and archeological sites. With a population of 375,000, the country's fourth-largest city, it houses Afghan, U.S. and NATO bases. Trade and agriculture dominate the economy.
Richard M. Nixon was president when Ketcham first traveled to Afghanistan with her late husband. The country completely charmed the couple. Her husband, Samuel Kendall (Sam) Ketcham, was a businessman who founded West Fraser Timber Co., a large, Canadian forest products company. A Seattle native, she moved to Canada when she married. There, she raised four children and helped grow the family enterprise into a large corporation.
Before going to the UW, Ketcham attended Smith College, where she is now a Trustee. Janet describes her work for Smith College as a glorious gift and an opportunity to see the college grow on a path educating the young women of the world for global leadership. She notes that much of her passion in art and philanthropy are attributed to her attending Smith.
Ketcham collects contemporary art. It was her painting by Lucian Freud that started the Janet Wright Ketcham Foundation. As she explains: "I had a painting, and it kept rising in value—really high. I sold it at auction." She didn't say how much, exactly, but a little Googling reveals the painting fetched $19.3 million. Along with her daughter and three daughters-in-law, Ketcham manages the foundation, which was significantly bolstered by the fortuitous investment in the art market. The foundation also supports Global Partnership for Afghanistan, a group growing poplar trees on a landscape that was devastated by the Russians and civil war. It also supports the Asia Foundation, whose school and computer lab in Kabul and a project for a school in Kapisi Province were both built by CARE.
IN AFGHANISTAN in 2010, Ketcham witnessed the ravages of war and visited her schools. She saw bombed-out buildings, streets littered with burnt tanks and museums turned to rubble. "The Russians just flattened it, killed one million people and the Civil War of 10 years further damaged the countryside and its people again." She wanted to help and subsidized her first school through The Asia Foundation, with whom she traveled in 2010. Later she stared working with the Ayni Education International, a Seattle-based non-profit focused on girls education in Afghanistan. With Ayni, Ketcham financed a school for 3,000 girls in Mazar i Sharif that was completed in 2011.
Not too long ago, girls' schools were not allowed in that area, but now thousands of girls take classes, said Ginna Brelsford, Ayni executive director. She credits Ketcham. "Janet synthesizes many threads: girls' empowerment, the impact of literacy, the context of extreme poverty. She distills facts in a nanosecond. It's thrilling to work with her."
Ayni has built a dozen schools and repaired two dozen others. It equips schools with wells, latrines, desks, texts, supplies and lab equipment. It sets up libraries and computer centers. In Brelsford's words, they are not simply building schools, but building bridges of understanding between countries.
Ayni turns each finished school over to local governments to operate but provides ongoing teacher training and support. Handing over the brick and mortar doesn't bother Ketcham. "All I really care is that the girls get educated. That's their job, the Ministry of Education. You have to have faith," she says.
Architect Salim Rafik will be working with UW students to design the school that will open in 2014.
The to-be-built school replaces an existing, 45-year-old structure that is being torn down. The location is considered safe, nestled among a hub of government buildings.
The community supports it, says Brelsford. "They want the school to represent a beacon of light and hope." Nonetheless, brutality persists in some regions. Taliban forces have tossed acid at schoolgirls. And women still battle repression, arranged marriages, archaic tribal codes and morality police. Luckily, a more open mindset prevails in Mazar i Sharif.
"The area is not immune to violence. No place in Afghanistan is," Brelsford says. "We can't be naïve. It is in a war zone."
KETCHAM talked about her plans with Daniel Friedman, dean of the UW College of Built Environments. They decided against sending architecture students to Afghanistan, so the project came to Architecture Hall. Assistant Professor Elizabeth Golden and Robert Hull, a partner in the Seattle firm Miller Hull Partnership who built schools and health clinics in Afghanistan as a Peace Corps volunteer in the 1960s and 1970s, are team-teaching a fall quarter class. It's a graduate studio course using the Janet Ketcham school as a case study and focusing on solving the real development issues. Afghan architect Salim Rafik, who is designing the school, will also interface with the students. The project is unique in being the first Ministry of Education School to have an outside architect.
The students must factor in Afghanistan's bright and cold winters and scorching hot summers. Schools there rely on passive solar techniques: natural ventilation, shading and breezes. They function on minimal power and get along without heating and cooling systems. Builders rely on local materials, mostly mud, brick and concrete. Wood is simply not available.
"All architects know this as part of basic education," Hull says. "We use these same principles on every project we do: taking advantage of the sun, the breezes. UW architectural students engage in many international studies. But most are not in such geopolitical hot spots." Golden says, "This is a special project for us." In her class, 17 dedicated graduate students unscramble the hard issues. Then they present solutions to peers, co-teachers and reviewers. Golden's sunlit and airy studio nurtures creativity. High ceilings open to broad skylights. Large windows usher in light and fresh air. Concrete walls flank rows of drawing tables sprinkled with laptops and scholarly books. Maps and drawings decorate the room.
One bright October weekday, student groups pinned preliminary drawings before the class. Instructors Golden and Miller Hull partner David Miller sat in judgment. The teachers listened, provided guidance, questioned the students and recommended improvements. Students faced many challenges: sticking to a budget, finding raw materials, focusing on security, and using ordinary building methods.
Students rose to show their work. Their drawings compared insulation methods. They charted the availability, costs and environmental impact of materials. The ensuing give-and-take resembled courtroom oral arguments. Lively, smart, and articulate, the exchange of ideas sharpened everyone's focus.
The professor thought one idea pushed the Afghan workforce too far. "You don't need to get too complicated with techniques they don't know," Golden said. "They have worked with concrete and mud brick infill for years. That's what they know."
A keen student defended her idea. "We're still looking at possibilities," she insisted. Next up, another student illustrated and explained the team's rooftop solar heater. Miller approved but urged a simpler system. The four young women nodded and took notes. "This is really great, but you're not quite there yet," Miller said.
The students enrolled for many reasons. One hungered for intellectual substance, "a more serious, more realistic" challenge. Another sought to learn "how Afghans build things and how we can help." A student from Niger, which is also arid and Muslim, hopes to learn "new ways to use materials" and "not just copy the West." An Iranian student pointed out the international diplomatic context. "Politically, this is a great approach for the U.S. to help in education," she said.
Indeed, rebuilding Afghanistan seems daunting. At the same time, it also ignites imaginations. The country enchants visitors, such as Ketcham. Her eyes soften and brighten as she recalls visiting Kabul schoolchildren.
"These little girls were so sweet and kind to me," she said. "They said a little something in English, a thank you. All I could think was: it's all worth it, worth coming out here, worth doing this, worth spending this money. The real thanks is to those who have supported and helped the projects all along the way and for the knowledge that we all give to make things happen. It is part of the human desire to help others. As Mahatma Ghandi said in his famous phrase, "be the change you want to see in the world."
If all goes well, the new school will open as expected, and a few thousand girls will harvest basic literacy—instead of poppy seeds. They will be part of the forward motion for themselves and for their families and their country. —Stuart Glascock is a Seattle freelance writer.