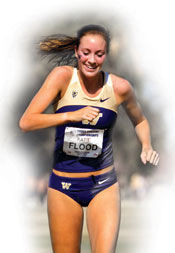 Photo by David Wallace/The Arizona Republic
Sophomore Katie Flood
(pictured) led the Husky women's cross country team to a second place finish in the NCAA national championship in Terre Haute, Ind. Nov. 21. It was the Huskies' third top-three finish in the past four years, including a national title in 2008. Flood, who won the Pac-12 cross country title, finished seventh overall at the NCAA race with a time of 19:47.9 on the 6,000-meter course. The Huskies finished with 170 points, trailing champion Georgetown by only 8 points.
Former swim coach Earl Ellis was inducted into the America Swimming Coaches' Association Hall of Fame in September. He coached at UW from 1979 to 1998. He was inducted into the Husky Hall of Fame in 2004. During his tenure, he coached 36 men's All-Americans, 25 women's All-Americans, seven Olympians and six national champions.
Six Washington football players, led by first-team selections Brendan Lopez and Greg Walker, honored Nov. 17 as the Pac-12 Conference announced its 2011 All-Academic teams. Walker, a safety, and Lopez, a long snapper, were named to the first team while three Huskies earned second-team accolades: center Drew Schaefer, linebacker Cort Dennison and placekick holder William Chandler. Kicker Erik Folk received honorable mention.
Mary Whipple, '02, was one of eight Pac-12 rowers medaling at the 2011 World Rowing Championships in Bled, Slovenia, helping her boat qualify for the 2012 Olympics in London. Whipple, a former Husky coxswain, won a gold medal in the 2008 Beijing Olympics.
Former basketball coach Tex Winter was enshrined into the Naismith Memorial Basketball Hall of Fame in August. Winters compiled a 45-35 record in three seasons at Washington from 1969 to 1971.
Follow Husky sports at gohuskies.com