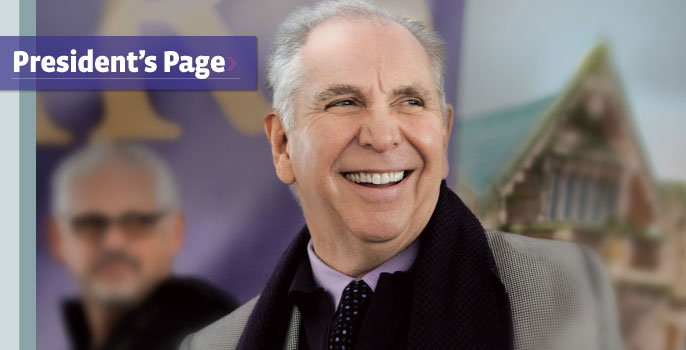 Working together, finding solutions
You don't reach the ripe old age of 150 years without building a few traditions along the way, and our University of Washington community certainly has its fair share. From cheering on the Huskies in the Apple Cup each fall to basking in the glory of the cherry blossoms on the Quad each spring, we have a rich heritage of tradition and excellence of which we can be very proud. Our 150th anniversary has provided a wonderful opportunity to celebrate those traditions as well as to recognize our shared accomplishments of the last century and a half. Yet even as we take this moment to honor our past, I'm finding it impossible to resist the lure of looking ahead. One cannot help wondering what the UW will look like when we celebrate our next milestone anniversary, our bicentennial.
While we undoubtedly can expect much to change over the next fifty years, there are some aspects of our University that will remain constant, for the next fifty years and beyond. Chief among these is our commitment to educating Washington's citizens. There is a long history of Washington's sons and daughters from all backgrounds—some the first in the families to attend college, others with purple and gold bloodlines going back multiple generations—taking their UW educations and going out to accomplish great things in our communities, our state, our nation and our world. We can expect nothing less in the future. Indeed, you can already see the seeds of future accomplishments beginning to sprout. Consider, for example, our world champion undergraduate team in synthetic biology. This team of 23 outstanding students worked in ways needed to tackle the complex problems of our world—collaboratively and across multiple disciplines—to win the grand prize at the 2011 International Genetically Engineered Machine competition. We can all be very proud of these fine students, for what they bring to our University now and for the impact we can expect them to make in the future.
On the research front in 2061, UW researchers, as they do today, will operate on the cutting edge, although where that edge lies will differ greatly from its current location. Our research community's extensive capacity for innovation and collaboration will put us in good stead to be on the forefront of emerging frontiers. We already have many centers and labs poised on the cutting edge of the future, such as the new Engineering Research Center for Sensorimotor Neural Engineering co-directed by Computer Science & Engineering's Yoky Matsuoka and Biology's Tom Daniel. They're working "where the silicon meets the collagen" to pioneer devices and revolutionize therapy for people with spinal cord injuries and other debilitating conditions. The type of human-machine ideas once thought possible only in science fiction look to be a reality of the future, and the UW will be solidly in the middle of making it happen.
While I am confident in our capacity to achieve this vision of UW 2061, it goes without saying that there are also challenges ahead. Notably, we must continue to help our state find a way to preserve public higher education in the face of not only the current economic crisis, but future ones as well. The enclosed brochure for Washington recipients of Columns does a masterful job of articulating why investment in education is essential to a shared vision of a better future for our children, our state and our nation. It's a powerful message, one that I think is resonating strongly with people in our community, thanks in large part to rallying efforts such as The Seattle Times' Greater good campaign and UW Impact, the Alumni Association's new legislative advocacy network. We are very grateful to have such strong and committed partners.
The timing of this support is particularly critical. With the state Legislature currently in a special session to reconcile yet another multi-billion dollar revenue shortfall, there has never been a greater need to work together to find solutions. We have some creative ideas on how the UW can continue to thrive without additional state resources, and we will be working hard with our partners to convince our elected leaders in Olympia to give us the tools to make it happen.
As you may know, this past November 4th we had a party on Red Square to mark W Day, the exact anniversary of the day the UW opened its doors in 1861. There was a tremendous turnout, with everyone decked out in their finest purple and the air filled with a palpable sense of connection and shared purpose. It reminded me of an incident I've read about that happened at another celebration on Red Square, the retirement party for former UW president Charles Odegaard. On that day in 1973, students acknowledged President Odegaard's many contributions to the UW by presenting him with a sweatshirt that read, in French, "I am the university." His response captured perfectly the spirit of partnership and collaboration that has made our university great: "This just isn't true," he said. "The university is us." And indeed it is. It is our students and alumni, our faculty and staff, our retirees and the people of Washington. Together, we have created generations of forward-thinking citizens who have helped our state grow and prosper. And it is by working together that we will ensure that we continue to provide world-class education and life-changing discoveries for generations to come.


Michael K. Young, President