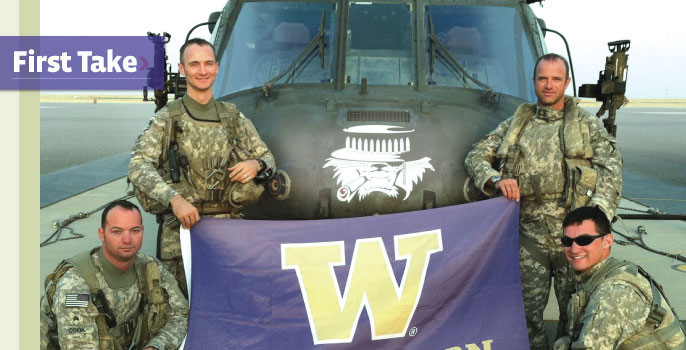 How my UW education made me a leader
Who would have guessed that 10 years after graduating from the University of Washington, I would trade my seat in Architecture Hall for the front seat of a UH-60 Blackhawk? I am the Commander of C Company, 1-140th Aviation Regiment in the Washington Army National Guard. I enlisted after graduating from the UW and received my commission through the officer candidate program in 2005. My unit and I are currently deployed to Kuwait in support of Operation New Dawn.
As I reflect on the road that led me from the UW to the Udari Desert, it is easy for me to identify ways that my time at the UW earning a B.S. in Construction Management prepared me to lead troops during this deployment. Teamwork, time management and composure under pressure are three qualities that I credit the UW with helping me develop.
Often during my Construction Management courses, I worked as a member of a team on group assignments. Opportunities like these afforded me the chance to learn how to place the good of the team ahead of my own. I gained a better understanding of how to transform individual strength into group strength. Now as a member of an aircrew, I am constantly working with others to achieve mission success in the aircraft.
Both in and out of the cockpit, I am faced with tasks that compete for my attention and time. I lean on the time-management skills I developed during my time in college to help me prioritize what requires my focus first. We may be executing a mission as planned and receive information that requires us to make an immediate change. My complete attention may be needed to implement real-time adjustments.
After graduating from the UW, I worked in the commercial construction industry before becoming a firefighter for the City of Seattle, where I currently work when our National Guard unit is not deployed. As I prepared for work in the fire service, I volunteered many hours in the Emergency Department at Harborview Medical Center. My time there reacting to trauma helped me develop the ability to maintain my composure under pressure. During high-stress situations, like reacting to an emergency in the aircraft, being able to remain focused on the task at hand can easily mean the difference between landing safely or not.
My time at the University of Washington has prepared me well for the experiences I encounter both overseas and at home. I am proud to be a Husky serving my country. Even halfway across the world, we raise the UW flag on game day and cheer on the Dawgs!