Green Giant
The Sierra Club honors the UW for being the most environmentally minded college in the nation
For the University of Washington, Excellence Comes in Many Forms. Winning Nobel Prizes and national championships, making scientific breakthroughs to turning out more Peace Corps volunteers and Medal of Honor winners than any other public university, the quality of the UW comes through in a cornucopia of fields.
But this past fall, the UW was honored by the Sierra Club as the nation's "most planet-minded" university in its annual listing of "America's Coolest Schools."
By cool, the Sierra Club means the University—which long has been recognized for its leadership in conservation and environmentalism—is a superstar in its daily operations to reduce its carbon footprint and treat the earth kindly.
To quote the Sierra Club magazine: "Just a few reasons why UW leads the pack: every building completed since 2006 has earned LEED Gold. All appliances bought are Energy Star rated. And the hydro-powered campus runs three farms, an extensive recycling program, the conservation-research hotbed Pack Forest."
Not bad for a major public research university smack dab in a thriving metropolis of more than 600,000 residents. As someone commented online, the UW is "Purple and gold and green." Much of the credit for this honor goes to the UW's committed student body, which has been behind many of the efforts the UW has implemented all over its Seattle campus.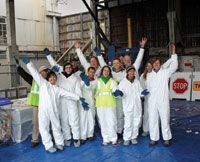 UW Recycling and Solid Waste staff is pivotal in keeping UW sustainable.
Here is just a sampling of the areas where the UW has outshone every other college and university across the nation:
TRASH
Cutting down on garbage
Every year before Earth Day, Recycling & Solid Waste holds an annual "Trash-In" with students and staff sifting through garbage from eight UW buildings and sorting it into proper receptacles. "It gives us a snapshot of what is still being thrown out on campus that could be recycled or composted," says Alex Credgington, spokesperson for Facilities Services.
Volunteers sort through the trash to see what could have been recycled or composted. In 2011, of the 1,223 pounds of garbage that was sorted, 51 percent was compostable, 21 percent was recyclable, leaving only 28 percent as actual garbage.
The Trash-In is followed in June by another event called SCRAM (Student Cleanup, Recycle and Moveout), when many students leave residence halls for the summer. Recycling & Solid Waste staff set up booths to collect reusable goods like school supplies, books, clothing, toiletries and electronics. In 2011, the SCRAM program directed nearly 9 tons of donations to local charities.
UW FARM
Growing food with sustainable practices College students, notorious for sleeping late, are up with the roosters (or shortly thereafter) to report for duty at the UW Student Farm every Monday morning to plan the week's duties. There's plenty to do: Chicken crew, Green Team (planting and planning) and more. Every week 60 student-farmers appear at the Farm's two sites.
"It's important for a University like the UW to remind people, as Wendell Berry does, that eating is an agricultural act and we are tied to these practices," says Elizabeth Wheat, one of the founders of the UW Farm, located near the Botany Greenhouse.
The Student Farm has benefited from student financial support as well. In 2010, UW students demonstrated their commitment to sustainability on campus with a student-led initiative to create their own Campus Sustainability Fund (CSF). CSF kicked off its first year with $340,000. CSF's student committee voted to fund the expansion of the farm to a second location, among other sustainability projects.
GREEN BUILDINGS
LEEDing the way in construction
How green are UW buildings?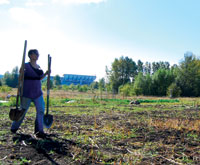 Photo courtesy Julia Reed
The answer is getting greener all of the time. The university is a leader in constructing buildings that adhere to the latest environmental requirements. LEED is the nationally accepted benchmark of the U.S. Green Building Council for the design, construction and operation of high performance buildings.
Projects score achievements for bike racks, native plantings, access to transit, reduced energy and water use, recycled and regional materials, reduced chemicals in building materials and cleaning products, and occupant comfort. Currently, the UW has 15 certified buildings, 21 in process, and 41 LEED-accredited professionals on staff.
Smaller projects use a SustainAbilities Scorecard developed by the Capital Projects Office to guide, educate, and quantify sustainable choices during project delivery, resulting in reduced operational costs and create healthy spaces to learn, work and live.
TRANSPORTATION
U-PASS boosts UW commitment to green commuting
Almost 81 percent of all commute trips to UW Seattle are made using transportation modes other than driving alone—including walking, biking, ridesharing and public transit.
UW students demonstrated how much they value transit by voting to make the U-PASS a universal student fee. Starting this fall, U-PASS became a benefit experienced and paid for by all regular students at UW Seattle, about 40,000 students.
UW Seattle commuters emit 8,180 fewer metric tons of CO2 per year as a direct result of the U-PASS program.
COMPOSTING
Food-waste recycling is part of daily life
Food-waste composting is a growing trend and lies at the heart of successful environmental stewardship. In the past seven years, the UW has moved from composting very little waste to composting a total of 965 tons of food waste in 2010, a 20 percent increase over 2009.
UW Medical Center, Harborview Medical Center, UW Club, Husky Stadium, as well as all UW residence halls and dining facilities compost pre- and post-consumer waste on a daily basis. In addition, all the service ware used in Housing and Food Services is compostable. (All polystyrene cutlery was replaced with compostable cutlery in 2008.) In 2009, Housing and Food Services, International Paper and Coca Cola worked together to create the first compostable soft-drink cup now used at all HFS restaurants and Cafés.
HUSKY ATHLETICS
Recycling scores big
The purple and gold aren't the only colors on game days. Athletics at Husky Stadium have been getting more and more green over the last decade.
In 2010, volunteers from the Environmental Stewardship & Sustainability Office, Students Expressing Environmental Dedication (SEED), and Earth Club distributed about 2,500 blue recycling bags to tailgating fans outside Husky Stadium.
The "Green Minute" takes place at home games instructing fans to hand their bottles to ushers at the end of each aisle. After the game, volunteers collect compostables and recyclables. The UW also works with its concessionaires to help them purchase recyclable or compostable packaging and service ware.
In 2010, 51.4 percent of all waste generated at football games in Husky Stadium was diverted from the landfill and recycled or composted.
UW EMPLOYEES
Minimizing waste is on your to-do list
If you work at the University of Washington, you may find that you have your own MiniMax. It's a desk-side, self-service recycling and waste program all rolled into one cute set of bins with a big mission: minimize waste, maximize recycling. MiniMax first came to the UW Tower, a 22-story building with 2,000 workstations, in 2008 as part of the Live Green, Work Green, Go Green program. It has since expanded to other locations on campus.
Currently, more than 4,000 workstations in more than 30 buildings use MiniMax. One goal is to increase personal responsibility for waste generation. The program also reduces the number of liner bags destined for the landfill.
GREEN FOOD
Local products make good eating
Wilcox Farms cage-free eggs from Roy, Wash.—the ones with the orange yolks the way eggs are supposed to look. Truesoup prepared in Kent. Theo's fair-trade chocolate handcrafted from bean to bar in Fremont. Tully's coffee roasted daily in Sumner and served in compostable cups. The list goes on and on.
UW Housing & Food Services has a long list of local vendors that meet the definition of local: no more than 250 miles away from the UW campuses. The result? An eye-popping 54 percent of the $9 million the UW spends on food is spent on food from local sources.
"You can have a huge impact if you have the support of administrators, faculty and students, which we do at the UW," says Micheal Meyering, project and sustainability manager for UW Housing & Food Services.
Take the venerable potato chips served at the hot-dog cart on Red Square. The UW purchases local raw potato-chip slices, fries them in trans-fat-free oil at By George and then puts them into a compostable bag for customers to enjoy.
AWARDS
The UW is recognized nationally for its work
Sometimes when the kudos pile up you have to take a bow. So it is with the UW and its accolades for sustainable practices.
Sierra Magazine, the official publication of the Sierra Club, named the UW the "coolest" school in the U.S. for its initiatives to operate sustainably and for limiting the University's contributions to global warming. This is the fourth year in a row the UW has been included in the Sierra Club's list of top-ranked schools.
In addition, the Princeton Review named the UW to its Green Honor Roll. The UW is one of 16 schools lauded for having a campus quality of life that is healthy and sustainable for students, for how well the school is preparing its students for employment and citizenship in a world defined by environmental challenges, and for the school's overall commitment to environmental issues.
To view a longer list of awards and designations about the UW's sustainability, go to: http://green.washington.edu/ess/promote/uw-awards.
—Julie Garner is a contributing editor
for Columns