Major Milestone
THE COLLEGE OF ARTS & SCIENCES—which educates 70 percent of all UW students—marks 150 years of excellence in every imaginable field
It's graduation day at Husky Stadium.
During the commencement ceremonies, students stand when their school or college is called. When students from the College of Arts and Sciences are asked to stand, "it seems like the whole stadium rises," Ana Mari Cauce, dean of the College, says with pride and delight. No wonder. The College of Arts and Sciences awards more than 70 percent of undergraduate degrees each year for the UW Seattle campus. "The College is the foundation for a lot of what happens at the University," Cauce explains. "Our faculty teach foundational courses for all undergraduates, not just those pursuing Arts and Sciences majors. Engineers need math and physics. I hope that future doctors will take a literature class as well as chemistry and biology." Beyond preparing students for careers, the College encourages them to become informed and engaged citizens. "We care about students being able to make a living, but we also want to help them make a life," says Cauce. "Through liberal arts courses covering everything from art to international studies, students can explore their individuality. But they also learn about our common human experiences—how our society works, how people in different countries see the world. We provide courses that pay dividends throughout a lifetime in terms of the fullness of life outside of the workplace."
The College has been paying those dividends for generations. Tracing its roots back to the earliest days of the Territorial University in 1861, the College of Arts and Sciences celebrates its 150th anniversary this year, providing an opportunity to acknowledge the achievements of faculty, staff, and students—past and present—from Nobel and Pulitzer Prize-winning alumni to faculty recipients of the UW's Distinguished Teaching Award. Legendary history professor Giovanni Costigan won the first Distinguished Teaching Award in 1970. Since then, half of all the awards have gone to Arts and Sciences faculty—including the College's last three deans. As the oldest part of the University, the College of Arts and Sciences also has been an incubator for other UW programs. The School of Medicine, founded in 1946, incorporated the College's Department of Anatomy. Computer Science began in the 1970s as a joint program between Arts and Sciences and Engineering; 20 years later, it moved into the College of Engineering. Most recently, the Arts and Sciences departments of Atmospheric Sciences, and Earth and Space Sciences, became part of the new College of the Environment. "Research driven by curiosity often comes out of Arts and Sciences disciplines and moves to other schools," says Cauce. "This is particularly the case when applications are developed out of basic research discoveries."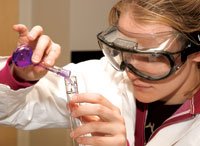 The number of examples of Arts and Sciences researchers making a huge impact on the state, the region, and beyond over the last 150 years is staggering. A century ago, Professor Trevor Kincaid became interested in oyster culture. When the state's native oyster population declined, he introduced Japanese oysters into Willapa Harbor and revived the state's oyster industry. In the 1950s, Professor W. Thomas Edmondson provided the scientific foundation for civic leaders to rescue Lake Washington from pollution and to coordinate water, sewer, garbage disposal, and other services through Metro. In the 1970s, Professor Ben Hall and postdoctoral colleague Gustav Ammerer conducted research on yeast that led to commercial development of a Hepatitis B vaccine, which has since been given to more than a billion people worldwide. Professor Lee Hartwell researched genes that control cell division, with potential applications for treating cancer—research that earned him the 2001 Nobel Prize in Medicine. Both Hall and Hartwell did the bulk of their groundbreaking research in the Department of Genetics, which was part of Arts and Sciences until moving to the School of Medicine in 2001.
Currently, researchers throughout the College are working on a wide range of topics: developing more efficient solar cells, deciphering ancient manuscripts to understand early Buddhism, finding clues to the history of the universe by capturing and studying comet dust. At the College's Institute for Learning and Brain Sciences (I-LABS), the recent arrival of a unique "MEG" (magnetoencephalograpy) machine is allowing scientists to track brain responses in infants and young children as they listen to language and do other mental tasks, providing crucial insights into how infants and young children learn. Like their colleagues throughout the College, I-LABS researchers make a point of sharing their findings beyond the academic world—in this case with parents, educators, policymakers, and health care professionals.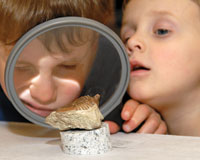 "We are educators, in the broadest sense of the word," says Cauce. From Bug Day at the Burke Museum—which is not only fun but also a gateway to science for a lot of young children—to UW World Series performances for schoolchildren, the College of Arts and Sciences has a broad impact. The Henry Art Gallery, the oldest public art museum in the state, attracts thousands of visitors every year. And then there are public lectures, most of them free, on everything from social psychology to urbanization. After the 9/11 attacks, public lectures on Islam and the Middle East, presented by Jackson School of International Studies faculty, attracted such large crowds that the venue was moved from the largest auditorium in Kane Hall (with 720 seats) to Hec Edmundson Pavilion to accommodate the demand.
While all of these activities—teaching, research, public outreach—are important, the most enduring contributions the College has made to the state and society lie in the achievements of Arts and Sciences alumni. The College's alumni range from political leaders—like our state's governor—to teachers, award-winning authors and journalists, technology visionaries, human rights activists, and a host of others whose work improves our world and changes lives, locally and globally.
"We never can predict what our students will do with their education," says Cauce, "but I'm always so impressed when I meet alumni. And I meet them everywhere! Hiking in a remote area of Zion National Park, I discovered that the ranger I was chatting with was a UW anthropology grad."
To celebrate the College's 150th anniversary, Arts and Sciences will be honoring 150 past, present, and future leaders among its alumni and current students with Timeless Awards, to be presented on May 4, 2012. Given their impressive accomplishments, we can barely begin to imagine what achievements the College's next 150 years will bring.
—Antoinette Wills has been at the UW for 41 years, as a student (Ph.D., History, 1975) and staff member. She frequently writes about University history.
For more information about the College's history, go to www.artsci.washington.edu/150