Jackie Lee Houston, 1935-2011
Devoted Desert Dawg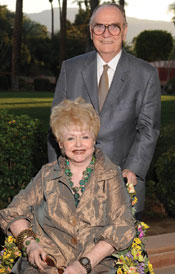 Jackie Lee Houston, '56, known as Palm Springs' highest-profile philanthropist and a lifelong supporter of the University of Washington, died Sept. 14. She was 76.
Houston, who graduated from the UW with a degree in home economics and fashion design, was Seattle's first female weather reporter and hostess of the Hoffman Easy Vision Talent show. She left Seattle for Los Angeles in the mid-1950s to pursue modeling with Oscar-winning fashion designer Edith Head, but eventually returned to Seattle to marry her college sweetheart, Jim, a star on the Husky football team.
The Houstons, who supported a range of organizations and causes, were enthusiastic supporters of Dawg Days in the Desert, and even hosted the event's premier gathering, Chow Down to Washington, in their Palm Springs home. She and her husband were also Presidential Laureates for gifts exceeding $1 million they made to the University.
"Giving," Houston once said, "is just a feeling of wanting to be proud of what you do." She is survived by her husband, Jim, '55; and their three children.—Katie Melton