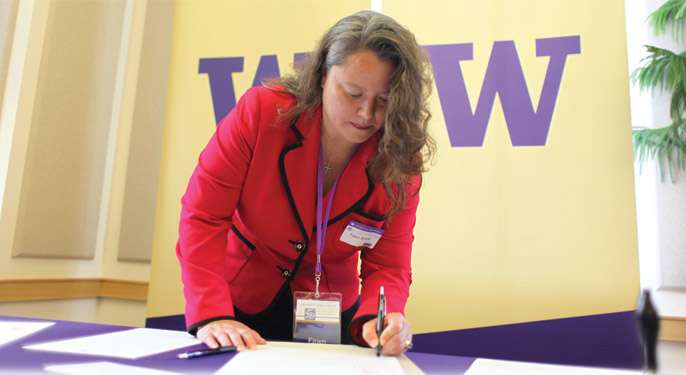 Fawn Sharp, '95, president of the Quinault Indian Nation, signs the Memorandum of Understanding that formalizes the relationship between the University of Washington and 17 Native tribes in the Pacific Northwest.
Photo by Anil Kapahi
University of Washington Interim President Phyllis M. Wise has pledged $5 million in matching gift funds toward the $10.6 million needed to build the House of Knowledge if $5 million can be raised by the end of 2011.
The House of Knowledge is a longhouse-style facility that will be built in parking lot N6 near McMahon Hall. Scheduled to open in 2014, the House of Knowledge will serve as a gathering place for Native American students and people of all cultures. It is expected to help the UW improve recruitment, retention and graduation rates for Native American students, while honoring the region's tribes.
The House of Knowledge planning and design has been precedent-setting, with the integral involvement of tribes, elders, students and the community. The state provided $300,000 in pre-design funding, and the Confederated Tribes and Bands of The Yakama Nation will donate lumber worth an estimated $91,000.
For more information, go to www.washington.edu/diversity/hok.