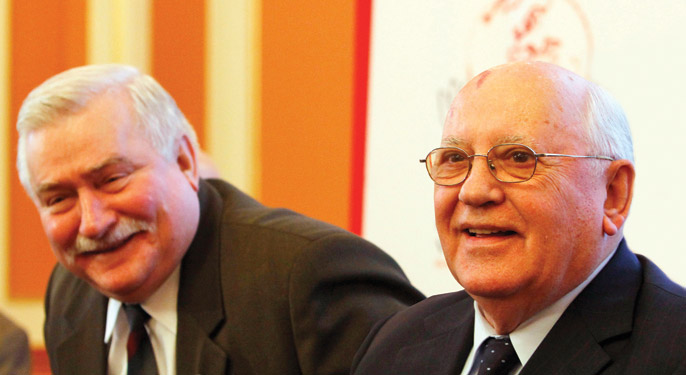 Lech Walesa and Mikhail Gorbachev
Photo courtesy AP Images
Every year the UWAA offers tours to amazing world destinations—the Holy Land, the rivers of West Africa, Vietnam—but next June, travelers cruising the Baltic Sea on the Changing Tides of History tour will also have an unprecedented opportunity to meet world leaders and Nobel Peace Prize Laureates Mikhail Gorbachev and Lech Walesa.
During a private reception in St. Petersburg, Russia, Gorbachev, former president of the Soviet Union, will talk about the Soviet Union's evolution into modern Russia and answer questions. Later, after touring Poland's Gdansk Shipyard—once the Lenin Shipyard and birthplace of the Solidarity trade union—travelers will meet former President of Poland Lech Walesa, who will discuss the Solidarity movement and his perspective on post-revolution Poland.
Changing Tides of History is just one of 35 trips sponsored by the UWAA in 2011. Each year, between 500 and 850 UW alumni and friends roam the world on the tours.