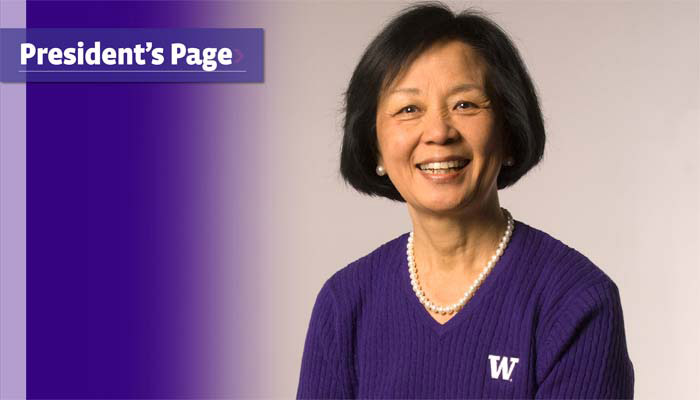 Paving the Way for Future Change
I am deeply honored to serve as president of such an outstanding institution as the University of Washington. While my title is "interim president," I really think of it as speaking and acting as the president for an interim period of time. This is because the issues facing our University cannot wait for a new president to arrive. The challenges and opportunities before us must be acted on now to ensure the UW's success for both the short term and the long term.
When the economy turns around, I predict that there will be a handful of public research universities that will come out better and stronger because they have thought ahead, planned ahead and managed ahead. I am completely confident that the University of Washington will be one of them. To achieve this, we must set our goals high; we must aspire to be the best public research university in the country, if not the globe. We must forge ahead.
In the coming year, we will be focusing our attention on three main areas. The first of these is our work with state leaders and the broader community during the upcoming legislative session. I will be spending a significant portion of my time in the coming months working with the governor and our state legislators, stressing the importance of making higher education a top priority. We must clearly communicate the broad range of contributions the UW makes—not only educating our young people, but also the myriad ways we contribute to our state's health, economy and culture. We have to let our legislators and the citizens of Washington know that we are their partners in finding the solutions that will enable our state to thrive in the future.
The second area of focus for the upcoming year involves the continuation of our efforts to balance our need to deal with the urgent budgetary challenges we face now with longer-term planning for the UW of 20 years from now. Much of this work will be done in the context of the Two Years to Two Decades Initiative, or 2y2d, which is being led this year by Interim Provost Mary Lidstrom. This initiative will provide guiding principles for decision-making while we respond to challenges and changes in the coming decades. It will enable us to strengthen our commitment to academic excellence in a manner that both recognizes fiscal realities and is consistent with our aspirations.
The third area of focus involves pre-planning for the next comprehensive fundraising campaign. While I am aware that universities do not launch campaigns under interim leadership, I am also fully cognizant of how much time, energy and exploration is needed to launch a campaign. Therefore, we will do as much preplanning as we can to ensure we are in the best possible position going into the next campaign.
As we move forward in these three areas and others, we want our Husky alumni and friends to be informed and engaged. In this issue of Columns, an insert enclosed for Washington residents provides a glimpse of the crucial role our university plays in the well-being of our state. I hope you will find it useful as we all work together during this critical time.


Phyllis M. Wise, Interim President