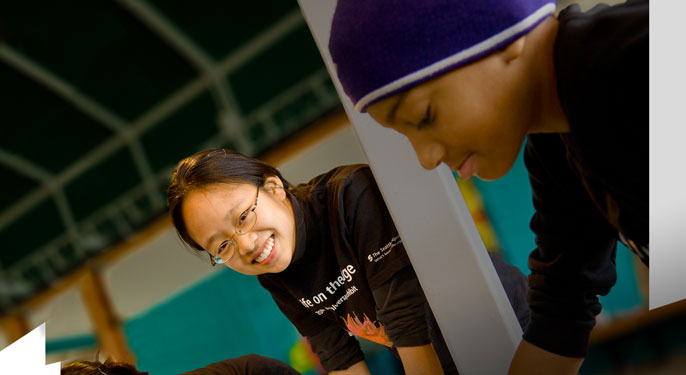 During a recent drizzly Saturday afternoon, UW senior Audrey Djunaedi encouraged Seattle middle school students visiting the Marine Life Center in Bellingham to get to know the plants and animals living at our shores. She answered the students' questions and invited them to touch the hermit crabs and other sea creatures. Later, she led them on a beach walk to take a closer look at marine life.
"I really believe in learning from experience, not just reading about it. You learn a lot from being outside the classroom," says Audrey, who was volunteering with Seattle Inner City Outings (ICO), which organizes outdoor experiences for young people.
The more time children spend in nature, the more likely they are to care about it, says Audrey, who's double-majoring in Aquatic & Fishery Sciences and Oceanography in the newly formed UW College of the Environment. She promotes environmental stewardship as a volunteer with Seattle ICO, the Seattle Aquarium and the UW's Environmental Alternative Spring Break, which brings UW students to rural and tribal areas of the state to facilitate environmental education.
Audrey credits her scholarships and the breadth of opportunities at the UW for the many volunteer and research experiences she's had. She has received the John G. Peterson Endowed Scholarship and the Jack D. Geil Memorial Scholarship in Aquatic & Fishery Sciences at the UW and the national Morris K. Udall Scholarship. Last summer she was reminded of the importance of her pursuits while studying fish populations in Alaska. "I think the neatest thing about Alaska is the amazing marine biodiversity," Audrey says. "I want that to remain for generations to come."